7 hurt in Bagerhat shooting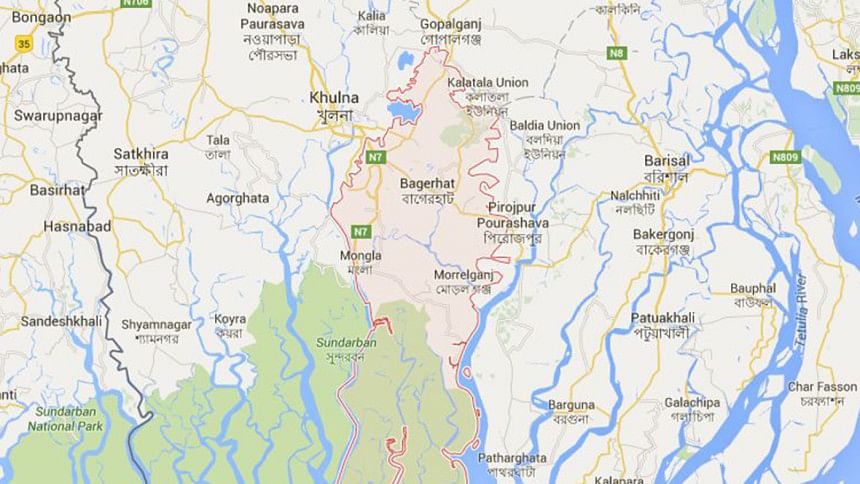 At least seven people received bullet injuries as the managing committee president of a Bagerhat school opened fire on them this morning.
Shikdar Mahbubur Rahman, president of Morelganj upazila's Shonakhali Mohabbat Ali High School managing committee, fired two shots at a crowd near the school, reports our Bagerhat correspondent.
At this, Abu Hanif Shikdar, 38, his younger brother Abu Hossain Shikdar, 33, Chhattar Shikdar, 60, Sobhan Shikdar, 45, Tofazzel Sheikh, 40, Kabir, 35 and Shibbir Shikdar, 30, sustained bullet injuries said Rashidul Alam, officer-in-charge (OC) of Morelganj Police Station.
Of them, the two brothers --- Hanif and Hossain --- were shifted to Khulna Medical College Hospital from local health complex with critical injuries, said the upazila health complex's Family Planning Officer Dr Moyeen Uddin Mollah.
Meanwhile, on information police rushed to the spot and detained Mahbubur Rahman and his brother Mizanur Rahman with a licensed firearm, 31 rounds of bullets and two used shells.
"Filing of a case was underway in this connection," the OC said.
Witnesses said tension was prevailing between Mahbubur Rahman, who was a candidate for member post in the committee, and his cousin Shikdar Kholilur Rahman, over the election of the school's management committee.
During the elections, Mahbubur Rahman and his men swooped on his rival group at Shonakhali market near the school, leaving them injured.