6 Rohingyas 'killed' in Maungdaw, 'buried' in Ukhiya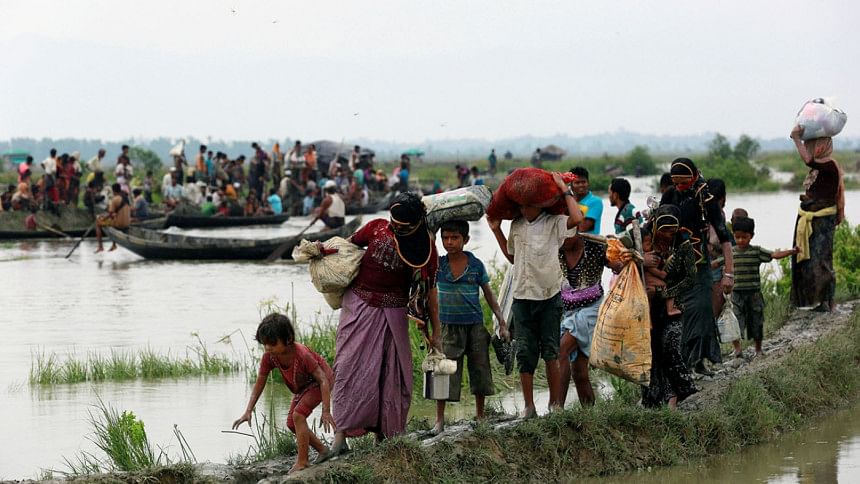 Locals in Ukhiya this evening buried six Rohingya people, allegedly shot dead by Myanmar security force in the bordering Tombazar village of Maungdaw in Rakhine state.
Relatives of the deceased carried the bodies to Abdul Latif Waqf Jame Masjid at Anjumanpara, a bordering village along the Naf River in Bangladesh, around 1:00pm, Anwar Kamal, a fish trader and local Jubo League leader of Falongkhali, told our Cox's Bazar correspondent.
Myanmar army reportedly conducted an operation at Tombazar of Dekobunia in Maungdaw around 12 noon. The six Rohingyas, including a woman, were killed during heavy firing in the Rohingya village, he said quoting the deceased's relatives.
The names of the deceased were not known.
After the bodies were brought to the mosque in Ukhiya, locals informed the Border Guard Bangladesh (BGB) members of the Border Observation Post in Anjumanpara. The BGB officials then informed it to the local police.
Visiting the spot, Mahmud Abul Khair, officer-in-charge (OC) of Ukhiya Police Station, said bodies of four men and one woman were found with bullet-injury marks. The body of the other man had no bullet injury.
"They were buried at Anjumanpara graveyard after the Maghrib prayers at 7:00pm as per the consent from higher authorities," the OC added.