Villages in ashes after deadly Indonesia volcano eruption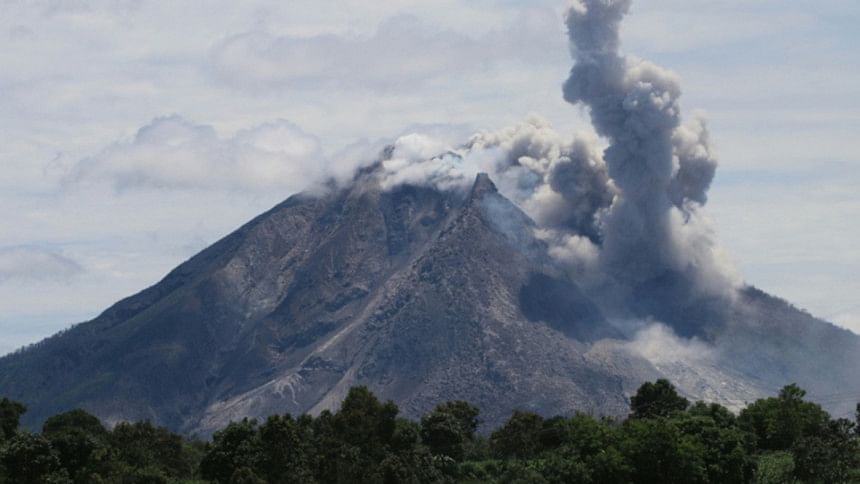 Indonesian rescuers searched for survivors in scorched villages and devastated farmlands Monday after a volcano erupted in clouds of searing ash and gas, killing seven and leaving others fighting life-threatening burns.
Witnesses have described sheer panic as waves of gas and fine rock were unleashed from Mount Sinabung on Sumatra island Saturday, consuming farmers trying to flee the slopes of the highly active volcano.
The fast-moving flows -- reaching temperatures of up to 700 C (1,300 F) -- incinerated homes and left livestock blackened and peeling.
Agustatius Sitepu, the head of the local military in Karo district where the volcano is situated, arrived to scenes of chaos as rescue crews raced to reach those left alive.
"The villagers who managed to survive were running around in panic, trying to save themselves," he told AFP on Monday.
"There were only a few dozen. They were terrified. They were covered in ash."
The eruptions were so violent that townships as far away as 12 kilometres (seven miles) were covered in thick layers of ash, he added.
Those worst affected were all farming within the "red zone" -- an area four kilometres from Sinabung declared off limits by authorities -- when the volcano erupted.
Six bodies were recovered Sunday, with three others rushed to hospital suffering horrific burns.
One of the victims succumbed to their wounds by nightfall, taking the official toll to seven, local disaster mitigation agency chief Nata Nail told AFP on Monday.
"Two more remain in the intensive care unit, suffering burns to 90 percent of their body," he said.
Footage showed their clothes blackened and hanging off charred limbs as rescue teams brought them by stretcher to hospital.
Nail said rescue teams were still finding survivors on Sunday during sweeps of homes and farms in Gamber village.
Residents were ordered to evacuate Gamber in late 2014 due to the unacceptable risk from lava flows, dense ash and falling volcanic rock.
But some grew tired of living in temporary shelters and began returning to their farms for economic reasons, despite repeated government warnings.
"We hope because of this disaster, those living near Sinabung, and tourists, will realise that Sinabung is still very dangerous," Nail said.
Sinabung roared back to life in 2010 for the first time in 400 years. After another period of inactivity it erupted once more in 2013, and has remained highly active since.
Sixteen people died during a particularly fierce eruption in 2014, and Sinabung remains at the highest alert level.