Transport strike in Ctg withdrawn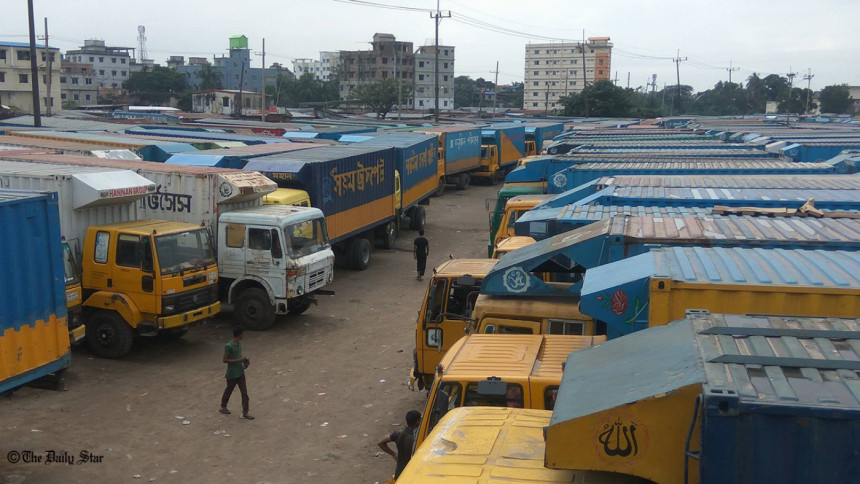 Owners and workers of goods laden vehicles have withdrawn their 48-hour strike around 11 hours after they enforced it in greater Chittagong this morning.
The strike has been withdrawn this afternoon and cargo services in Chittagong will resume from 6:00pm, said Chowdhury Zafar Ahmmad, convener of Brihottor Chattagram Ponnyo Paribahan Malik Sramik Oikya Parishad that enforced the strike.
The decision came following assurance from Roads Transport and Bridges Minister Obaidul Quader that the road use tax collected by Chittagong City Corporation (CCC) will be reduced, Ahmmad added.
Earlier, goods transport on roadways to and from Chittagong port remained suspended for the day as transport owners and workers enforced a 48-hour strike in greater Chittagong from 6:00am this morning protesting recent government announcement to control plying of overloaded vehicles from November 1.
Cargo services delivering imported and exported items from Chittagong port remained suspended due to the strike enforced by Brihottor Chattagram Ponnyo Paribahan Malik Sramik Oikya Parishad to press home its five-point demand, reports our Chittagong correspondent.
The demands include ending harassment and extortion by the roads and highways staff at Axle Load Control Stations on the Dhaka-Chittagong highway and by law enforcers, withdrawal of the big hike in the road use tax collected by CCC, introducing easier process for issuing driving licenses under heavy vehicle category, and building separate terminals for trucks, covered vans and prime movers at Patenga sea port.
Transport owners are not able to pay the recently imposed higher fines against overloaded vehicles following an announcement by the Ministry of Roads and Highways, said Abu Bakar Siddique, member secretary of the transport owners association.
Chittagong Port Authority (CPA) Secretary Omar Faruq claimed that though the loading and unloading activities were normal at the port jetties, the delivery of goods was suspended as no vehicles entered the port.
Bangladesh Inland Container Depots Association (BICDA) Secretary Ruhul Amin Sikder claimed there was no impact on the shipment of export containers today since the export containers which were scheduled for shipment yesterday could be reached to the port from the private ICDs before dawn and the ships left the port taking the containers.