37 more trafficking victims return from Myanmar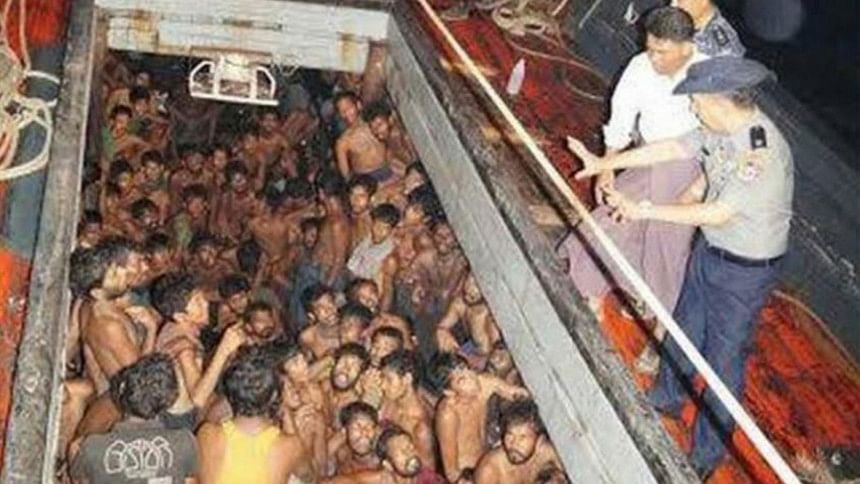 Thirty-seven more Bangladeshi trafficking victims, who were rescued by Myanmar navy on May 21, returned to the country today.
The Bangladeshi nationals were handed over after a flag meeting between Myanmar's immigration department and Border Guard Bangladesh (BGB), our Cox's Bazar correspondent reports.
The flag meeting took place around 10:30am, said Maj Aminul Islam, additional director, BGB Battalion 17 in Cox's Bazar. Maj Imran Ullah Sarker, a deputy commander of the unit, led the Bangladesh delegation.
The Bangladeshis were brought back through Ghumdhum border in Naikhanchhari upazila of Bandarban, he said. Later, they were handed over to police.
"We are taking their confessional statements. After scrutinising details, we will hand them over to their relatives," said Shamol Kumar Nath, superintendent of Cox's Bazar police.
On May 21, Myanmar navy rescued 208 boatpeople from the Bay of Bengal when they were being trafficked into Malaysia.
Initially, the Myanmar authorities maintained that all the victims were Bangladeshis. However, the Bangladesh high commission interviewed the self-claimed Bangladeshis for the confirmation of their nationality.
After the high commission's verification, the first batch of 150 returned home on June 8 from the Southeast Asian country. Of them, three were identified as Rohingyas, according to police.
Among the rest 58, thirty seven more were later recognised as Bangladeshis.