3 JMB, Jamaat men held over Debiganj priest killing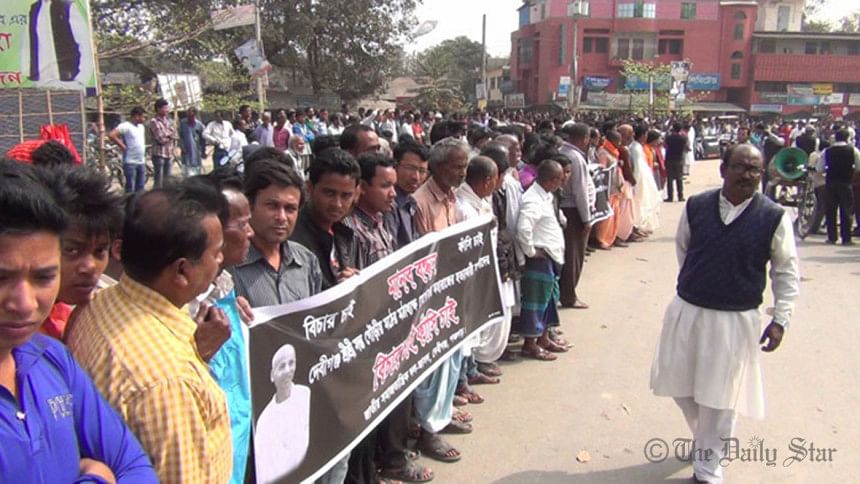 Police today claimed detention of three people in connection with the Debiganj temple attack in Panchagarh where a Hindu priest was killed and a devotee shot yesterday.
Two among them are said to be members of banned militant outfit Jama'atul Mujahideen Bangladesh (JMB) and the other a Jamaat-e-Islami activist, our Thakurgaon correspondent reports.
The detainees are Babul Hossain, 31, son of Abu Sayeed from Dandapal village, Jahangir Hossain, 30, son of Rafiqul Islam, and Khalilur Rahman, from Panchagarh Sadar.
They were detained in an overnight drive, Aiyub Ali, inspector (investigation) of Debiganj Police Station told The Daily Star.
Meanwhile, several hundred people from all walks of life formed a human chain under the banner of 'Debiganj Bashi' at Bijoy Chattar for 45 minutes from 11:00am demanding immediate arrest of the attackers.
Bangladesh Puja Udjapan Parishad and Bangladesh Hindu Buddha Christian Parishad in statements yesterday strongly condemned the killing and demanded trial of the killers and their instigators.
Bangladesh Puja Udjapan Parishad will form human chain across the country on February 27 protesting the killing.
Joyonto Sen Dipu, acting president of Bangladesh Puja Udjapan Parishad, announced the countrywide protest programme from a human chain in front of Jatiya Press Club in Dhaka this afternoon.
Addressing the human chain, the leaders strongly condemned the murder and demanded capital punishment for the killers.
Swadhin Bangla Betar singer Manoranjan Ghoshal urged Prime Minister Sheikh Hasina and Home Minister Asaduzzaman Khan to take effective measures to arrest the culprits.
Deceased Jogeswar Dasadhikari, 50, is the latest victim of a recent string of attacks on clerics and prayer houses of minorities in Bangladesh over the last few months.
Jogeswar's elder brother Rabindranath Roy filed a murder case with the police station accusing three unknown people, said the inspector yesterday. Police also filed an illegal arms and explosive case.
SITE, an intelligence group, on its website news.siteintelgroup.com said Islamic State (IS) has claimed responsibility for killing Jogeswar but this paper could not independently verify the claim.
Jogeswar was arranging his offerings for his morning puja at his Sri Sri Shonto Gaurio temple of Shonapota around 6:30am just before the attack, police said.
A top official of Panchagarh police denied that there was any presence of the terror outfit in the district. "Yet, we will verify the claim."
With the killing of Jogeswar, at least three clerics were attacked in last five months across the country.
Pastor Luke Sarker of Pabna and Italian Pastor Piero Parolari, who lives in Dinajpur, were attacked in their homes on October 5 and November 18.
Law enforcers have claimed that banned militant outfit Jama'atul Mujahideen Bangladesh (JMB) had carried out the attacks.