3 abductees found dead in Bandarban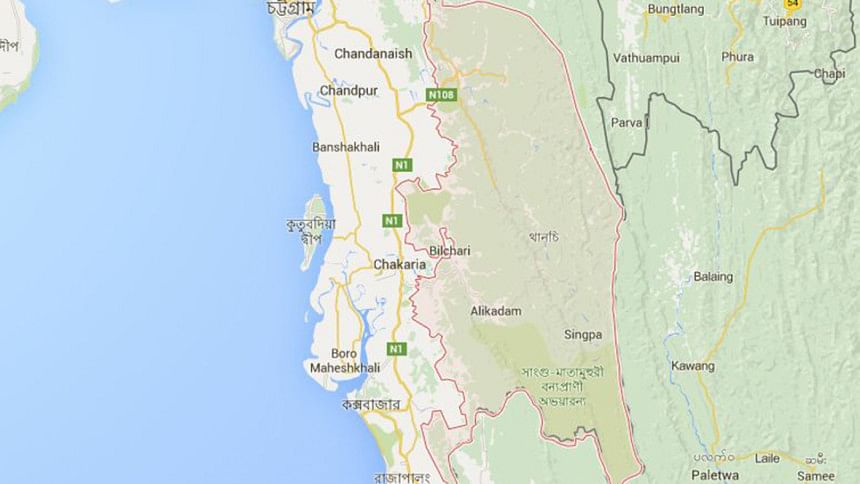 Three abductees were found dead at a remote place in Thanchi upazilla of Bandarban this afternoon.
The deceased were identified as cattle trader Abu Bakkar, 30, his associates Absar Ali, 28, and Md Shabuddin, 29, of Hakimpara area of Alikadom upazila of the district, reports our Bandarban correspondent.
Police recovered the bodies from remote Rombet para area at around 3:40pm, said Sirajul Islam, officer-in-charge (OC) of Thanchi Police Station.
"They were found slaughtered, blind-folded while their limbs were tied up with ropes", the OC said.
"Tripura group - a terrorist outfit might have killed them after abduction", he added.
The OC also said that police have already arrested four Tripura men in this connection.
A group of miscreants of the area abducted the trio on Saturday noon from remote Tong Pue Para area on Thanchi-Alikadom road when they went there to buy cattle, according to police and family members.
"On Friday night, a terrorist called over my mobile phone and told me to search the body of my brother at the area", said Abul Hashem, younger brother of Abu Bakkar.
Kaw Hla Ching Marma, chairman of Thanchi upazilla said the group has been involved in criminal activities, including killing and abduction, for more than one and half year.
The gang consists of around 15-18 people of the district.
On March 21, the group killed a union parishad chairman aspirant of Ruma upazilla.
Protesting the death, agitated local Bangalis swooped on the Tripura community leaving two of them wounded at Alikadam Bus Stand area around 4:30pm.
The injured Johnson Tripura, 40, and her wife Maria Tripura, 35, were admitted to the upazilla health complex, said Oppela Raju Naha, OC of Alikadom Police Station.