3 Rohingyas drown, 3 missing in Naf river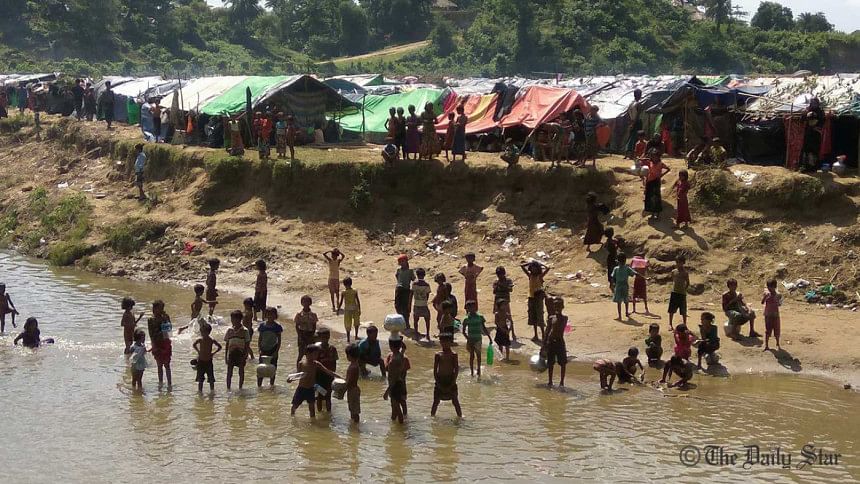 Two women and a minor boy of Rohingya community drowned and three others went missing as a boat carrying the fleeing Rohingyas capsized in Naf River in Hwaikong Bazar area of Teknaf this evening.
The deceased were identified as Fatema Begum, 63, and her daughter Minara Begum, 25, our Cox's Bazar staff correspondent reports quoting sub-inspector Md Mahir Khan, in-charge of Hwaikong Police out post.
The minor boy, aged around four to five, was yet to be identified, the SI said.
According to Syed Ullah, husband of Fatema, a boat started from Myanmar with a total of seven people reached the Hwaikong area and sank leaving the two women dead and four others went missing, the police officer said.
Later, locals found the body of the minor boy Khagongkhali area, adjacent to Naf River, around 7:30pm and buried him, SI Mahir told this correspondent.
Earlier in the day, members of Border Guard Bangladesh stopped 1,091 more Rohingyas from entering Bangladesh, said Commanding Officer of BGB Battalion-2 Lt Col SM Ariful Islam.
So far, 53 Rohingyas have been killed in three separate incidents of boat capsize at Shah Porir Dwip.
According to UN refugee agency UNHCR, about 58,600 Rohingya have fled into neighbouring Bangladesh from Myanmar's trouble-torn Rakhine state seeking shelter since the outbreak of violence there.