2 murder suspects killed in Joypurhat 'shootout'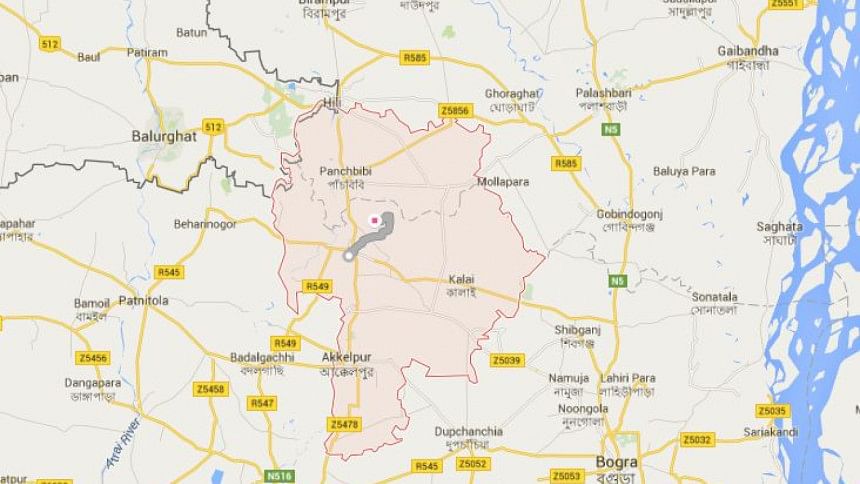 --3 policemen including Joypurhat Sadar Police Station OC injured
--The murder suspects were accused in other cases
-- Cops recovered a firearm, some sharp weapons from the spot
Two suspects in the killing of a newly elected UP chairman were killed in a "gunfight" with police in Joypurhat Sadar upazila early today.
The deceased are: Sohel Rana, 25, son Nurul Islam of Sawalpara and Munir Hossain, 28, son of Lutfar Rahman of Kuchkuri village of the upazila. Of them, Rana was accused in the murder case.
Both of them were allegedly involved with the killing of newly elected chairman of Badsha union parishad AK Azad on June 12, our Dinajpur correspondent reports quoting police.
They were also accused in a number of cases filed for snatching and extortion with Joypurhat Sadar Police Station, police said.
Three policemen including Farid Hossain, officer-in-charge of the Sadar Police Station, were injured during the "gunfight" and received primary treatment, said Mollah Nazrul Islam, superintendent of Joypurhat police.
On information that a gang of criminals was planning to attack the house of slain AK Azad, a police team raided Gopalpur village around 4:00am, the SP said.
Sensing presence of the law enforcers, the criminals opened fire and attacked with sharp weapons in Bhadsha union on Gopalpur-Konchkuri road, leaving three policemen including the OC injured.
In retaliation, police opened gunfire triggering a "gunfight" that left Sohel and Munir dead on the spot.
Later, police recovered a firearm and some sharp weapons from the spot.
Miscreants stabbed and shot Azad and his aide at Gopalpur village on June 4. Eight days into the attack, Azad succumbed to his injuries at Popular Hospital in Dhaka.
Azad was elected chairman of Bhadsha union in the UP election held on May 28.