Fakhrul for resignation of Qamrul, Mozammel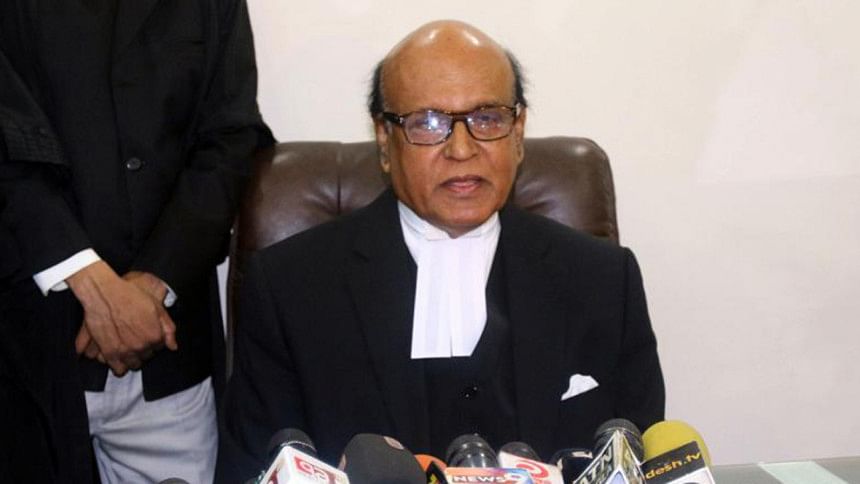 BNP acting Secretary General Mirza Fakhrul Islam Alamgir today demanded resignation of Food Minister Qamrul Islam and Liberation War Affairs Minister AKM Mozammel Huq hours after the Supreme Court found them guilty of contempt over their comment on the chief justice.
"It is a historical verdict and the two ministers should resign for the sake of morality," Fakhrul said at a press conference held at the party's Nayapaltan headquarters.
The BNP leader also observed that the two ministers have no moral rights to hold the ministerial portfolio and to stay in the government for the sake of democracy.
SCBA PRESIDENT VOICES SAME DEMAND
Food Minister Qamrul Islam and Liberation War Affairs Minister AKM Mozammel Huq should resign on moral ground as they were found guilty of contempt of court, Supreme Court Bar Association President Khandker Mahbub Hossain said today.
"If they would not…, the prime minister should take step to remove them [from the cabinet] immediately to set example before the people," he said while briefing journalists at the SCBA auditorium in Dhaka.
After finding the two ministers guilty, the SC today fined the two ministers Tk 50 thousand each for committing contempt of court by making contemptuous statements about the chief justice.  
READ MORE: SC fines Qamrul, Mozammel Tk 50 thousand each
The two ministers have to pay the money to Islamia Eye Hospital and Liver Foundation of Bangladesh within seven days. They will have to suffer imprisonment for seven days if they fail to pay the fine, the appellate division said.
On March 8, the SC issued the contempt rule on the two ministers and asked for explanation on their "derogatory and highly contemptuous statements".
The two ministers on March 5, 6 criticised Chief Justice Surendra Kumar Sinha after he (chief justice) expressed dissatisfaction over "poor performance" of prosecutors and investigators of the International Crimes Tribunal in dealing with the war crimes case against Jamaat-e-Islami leader Mir Quasem Ali.