1 killed in 'gunfight' as Rab foils Sonali bank heist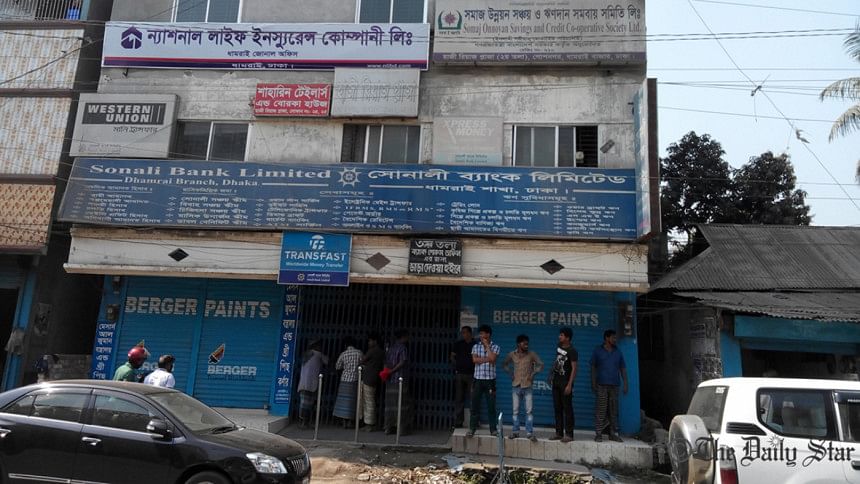 A suspected robber was killed in a "gunfight" with Rapid Action Battalion as he along with his cohorts attempted to rob Sonali Bank's branch in Dhamrai upazila of Dhaka early today.
The deceased was identified as Masuk, 35, Lutful Kabir, commanding officer (CO) of Rab-4, told The Daily Star.
Rab personnel detained five persons including two women in connection with the attempted heist, the Rab official said.
The detainees are, Sabuj, 60, Riaj Uddin, 84, Badsha Mia, 38, Shila, 18, and Rumana, 25.
Masuk and the detainees rented the flat of the second floor of a four-storey building two months ago and had a plan to loot money from the vault of the bank which is on the first floor, CO Lutful Kabir said.
Acting on a tip-off, the Rab members raided the house today while they were removing tiles just on top of the vault around 3:50am, the Rab official said.
Sensing presence of the Rab members, the gang opened fire at them, prompting the elite force to fire back, triggering a gunfight.
At one stage, Masuk was caught in the line of fire and sustained severe injuries.
Later, he was taken to Dhamrai upazila health complex where attending doctor declared him dead.
Arms and tools used in cutting the floor were recovered from the spot.