Coronavirus awareness: 2 Sylhet tech companies make face shields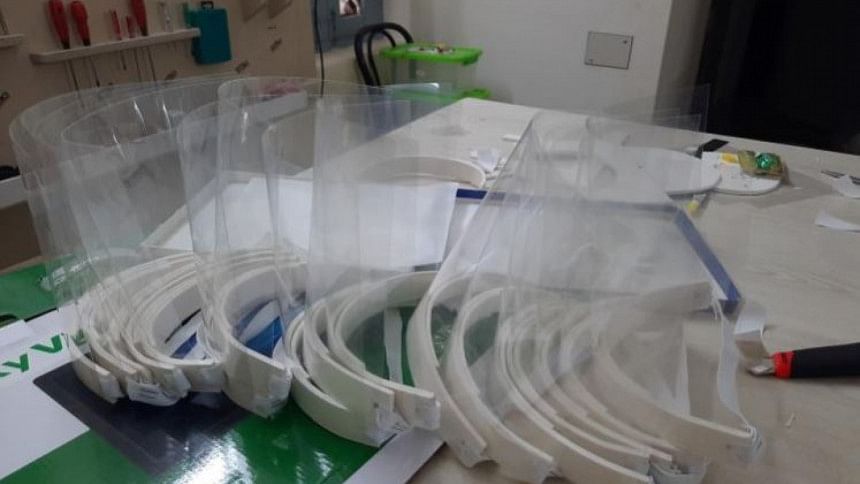 The demand for personal protective equipment (PPE) for doctors is rising due to the coronavirus (Covid-19) pandemic.
While the country is struggling to provide enough PPEs for medical caregivers, some organisations and individuals are stepping up -- making PPEs for doctors. Covering equipment like face shields are also very important.
As face shields are even harder to find, Cybernetics Robo Academy in Sylhet and CRUX made some face shields and released an easy tutorial guide for everyone, reports our Sylhet correspondent.
Syed Razwanul Haque Nabil, CEO of CRUX and CTO of the Robo Academy, said, "Using OHP sheets and some other material, we made 98 face shields today (Wednesday) which are about to be distributed among doctors along with PPE sets by another young entrepreneur named Salman Karim."
"Our first thought was to release a tutorial video on making face shields and after seeing the tutorial video, Salman contacted us and we started making as many face shields as possible," he said.
He said, "In this situation, we all must come forward to support the fighters of the time -- the doctors."
The video tutorial can be found in this link: https://youtu.be/kEaCt6L4Cck and anyone can communicate with the academy for any kind of development help in this situation, Nabil urged.
Contacted, Salman Karim said, "At our small apparel factory in Gazipur, we are making PPE coveralls for doctors. But other things like masks, boots, face shields are also important. We wanted to provide complete sets and we found Cybernetics Robo Academy filling the blank making the face shields."