MESSI V NEYMAR
The stage at the historic Maracana stadium is set for an epic showdown (on Sunday, 6:00am BST) between the two giants of the footballing world -- Brazil and Argentina -- as they look to bag the highly prestigious Copa America trophy of 2021. What makes this clash between the South American powerhouses even more mouth-watering is that the two most popular and technically gifted players – Lionel Messi and Neymar — are featuring for their respective teams. Messi and Neymar have a great mutual admiration towards each other despite having met as archrivals on the field in their national colours on many occasions.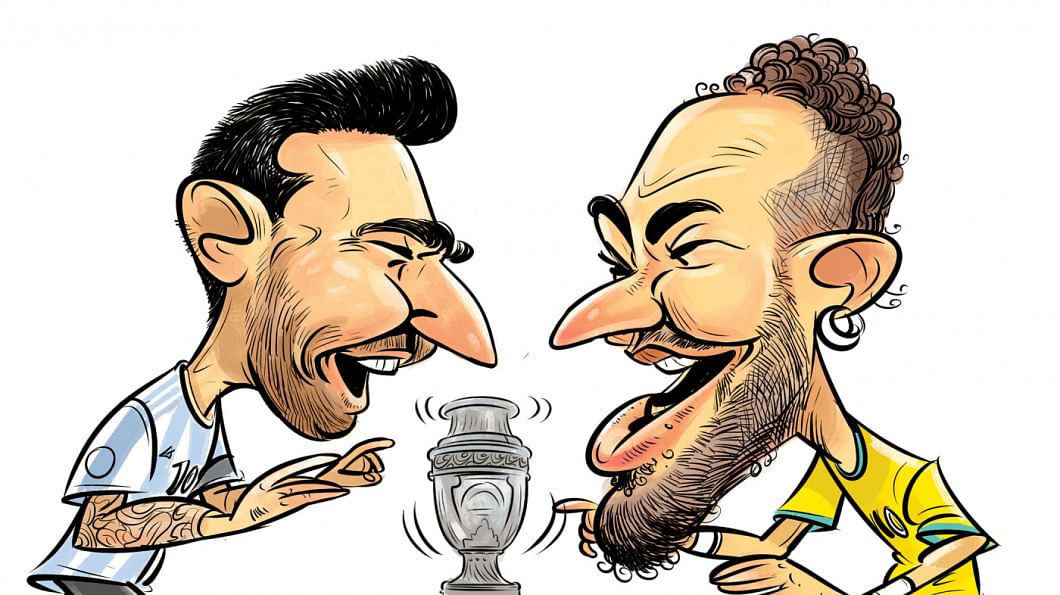 Let us look back at the times when these two talismans played against each other:
IN INTERNATIONAL FOOTBALL:
The first time the two met in a friendly in 2010, Messi's last minute winner helped seal a 1-0 win for La Albiceleste. The following encounter, also a friendly, in 2012, the world witnessed the 34-year-old Barca legend score an outstanding hat trick to secure the victory for his side in a 4-3 thriller. Then Neymar had the upper hand in the following two encounters, the first in a friendly in 2014 where his counterpart missed a penalty and then in 2016 World Cup Qualifier, Neymar's goal contributed to an emphatic 3-0 win over the sky blue and whites. Now fast forward to 2021, the two maestros meet again in the biggest game of their international career so far.
IN CLUB COMPETITIONS:
Before playing as teammates for Barcelona, Neymar and Messi played against each other in a Club World Cup final in 2011 where Messi's Barcelona comfortably won the game 4-0 against Neymar's Santos by displaying a superior brand of football that made them European champions. Messi had scored twice in that game.
Interestingly, the two playmakers have not yet clashed with their current club sides- Barcelona and PSG. Messi and Neymar have met on the field as rivals before, but this will be the biggest game in which they'll do it thus far, with a huge trophy on the line.