Women Police in Bangladesh: Significant rise in number, but challenges still there
Reveals report of Commonwealth Human Rights Initiative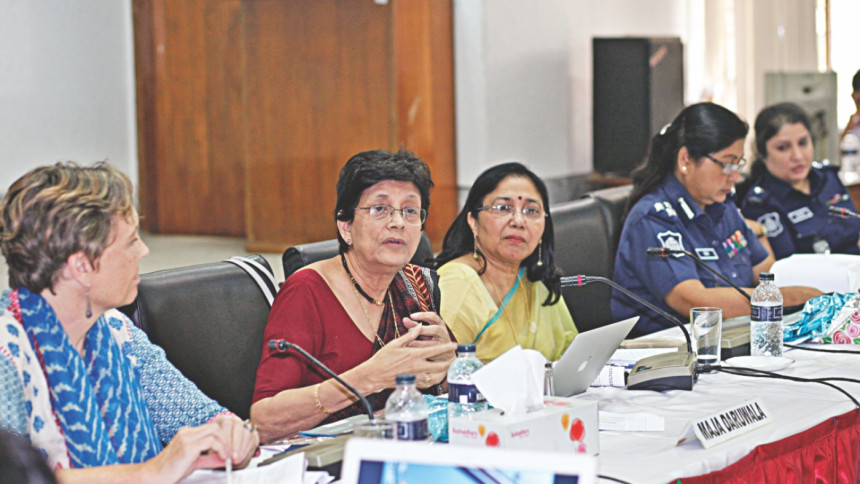 Recruitment of women into the Bangladesh Police has increased significantly in the last one decade, but still they are facing a number of challenges in the profession compared to their male colleagues, reveals a survey.
According to the survey report, there were 8,827 women police serving all over the country in 2015, which was 6.03 percent of the total police workforce of 1.55 lakh. It was only one percent of the total number in 2007 and 4.63 percent in 2013.
The report, "Rough Roads to Equality: Women Police in Bangladesh", said they did not face any obstacle from their families during recruitment but they faced hurdles in the workplace.
A significant number of women expressed dissatisfaction over maintaining both professional and family responsibilities as they found it hard to work extra hours, sometimes over 12 hours a day, which they think can be solved by fixing the shifting hours properly.
The report, by Commonwealth Human Rights Initiative (CHRI), was launched at a roundtable of CHRI and Manusher Jonno Foundation in the capital's Cirdap auditorium yesterday.
There are only one additional inspector general, two deputy inspector generals and two additional DIGs and 19 superintendents in the force, says the report.
As many as 227 female police personnel of four ranks -- inspectors, sub-inspectors, assistant sub-inspectors, and constables -- took part in the survey at three divisional ranges of Dhaka, Chittagong and Sylhet between 2013 and 2015.
A few from Khulna, Rajshahi and Rangpur ranges also took part in the survey.
Many feel equal to their male colleagues while serving as a police official, but they said they did not want limit themselves to administrative tasks, they wanted to take challenging tasks as well.
For example, female police think that they were not given important cases to investigate.
They also think they do not get proper behaviour from their subordinates while their seniors behave well with them.
A few number of sub-inspectors, assistant sub-inspectors, and constables complained of sexual harassment at the workplace, while almost all of them stressed the need for recruitment of more women in the police force.
Speakers at the roundtable said the situation of women police in Bangladesh personnel was better than other South Asian countries such as India, Pakistan and the Maldives, as the Bangladeshi policewomen were more co-operative.
Of the participants, 100 percent of the inspectors and sub-inspectors said their families supported their job while this was respectively 96.7 percent and 97.39 percent for ASIs and constables, says the report.
It added that 2.7 percent of SIs, 3.3 percent of ASIs and 10.46 percent of constables alleged that they faced sexual harassment at the workplace.
Of the participants, 33.34 percent of inspectors, 62.16 percent of SIs, 40 percent of ASIs and 43.8 percent of constables said they worked over 12 hours a day.
Addressing the roundtable, Manusher Jonno Foundation Executive Director Shaheen Anam stressed the need for more women in the higher ranks.
"The role of women police personnel is important for women empowerment," she said, adding that the association of women police personnel could play a vital role in this regard.
Maja Daruwala, senior advisor and board member of CHRI, highlighted the role of police in addressing citizens' concerns.
Christine Hunter, country representative of UN Women in Bangladesh, said the world agreed to eliminate all forms of violence against women by 2030.
"And we are so far from there," she said, adding that more than 70 percent of Bangladeshi married women still faced violence.
Reading out a written statement, DIG (logistics and procurement) Mily Biswas said over the past few decades the concept of policing had changed.
The job now requires persons with ethics and excellent interpersonal and problem-solving skills, said Mily, also president of Bangladesh Police Women's Network.
The police official added that there might be incidents of sexual harassment, which needed to be addressed.