Virtual court grants 3-day remand for ex-Jubo League leader Khalid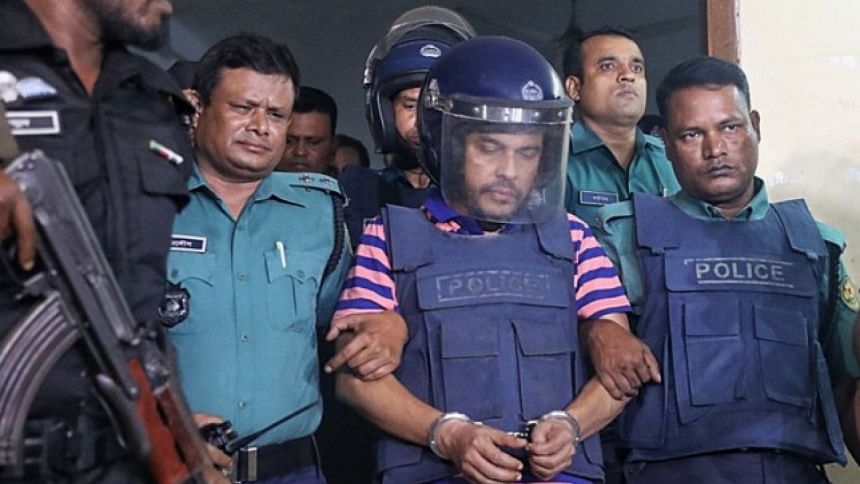 A virtual court in Dhaka today placed expelled Jubo League leader Khalid Mahmud Bhuiyan on a three-day remand in a money laundering case through videoconferencing.
Metropolitan Magistrate Md Ziaur Rahman passed the order in the absence of Khalid at the courtroom after CID Sub-Inspector Rashedur Rahman, also the investigation officer of the case, placed a 10-day remand prayer for him.
Earlier in the day, Khalid was virtually shown arrested in the case.
The Supreme Court on June 7 cleared the barriers and directed all magistrates across the country to hold virtual hearings on remand prayers through videoconferencing with concerned jail authorities.
Before issuance of the gazette notification, it was a mandatory provision of the Criminal Procedure Code (CrPC) that during the hearing of a remand prayer, the accused must be produced before the court.
During today's hearing, the conducting magistrate eye-witnessed the accused through videoconferencing and held a hearing on the remand prayer.
Before the hearing, the magistrate sent a link to the authorities of Kashimpur High Security Jail in Gazipur custodian for the accused in the case.
Defence lawyer also submitted a petition seeking cancellation of the remand prayer through an email and took part in hearing through videoconferencing.
On June 7, CID Inspector Mohammad Ibrahim filed the case with Motijheel Police Station against Khalid for laundering around Tk 8.5 crore to Malaysia, Singapore and Thailand till December 31 of 2019.
Three more named and several other unnamed people were made accused in the case.
On February 23, CID pressed charges against Khalid and five others in another money laundering case.
He was indicted in a drug case on February 26.
Rab arrested Khalid from his Gulshan residence on September 18 last year. Police seized one shotgun, two pistols, 57 rounds of shotgun bullets, 53 rounds of pistol bullets and 585 pieces of yaba pills from his residence.
Later, five cases, including a money laundering case, were filed against Khalid with Gulshan and Motijheel Police Stations. He was remanded for several days in the cases.
Earlier, police also pressed charges against him in the cases filed under the Arms and Narcotics Control Acts.