Viqarunnisa students call off hunger strike after 2hrs
Postpone today's demo
Students of Viqarunnisa Noon School and College have called off their hunger strike two hours after they started the strike demanding release of their teacher Hasna Hena, who was arrested in a case filed on charge of "provoking a ninth-grader to commit suicide".
They announced to end their hunger strike by drinking water offered by the teachers around 12:50pm, our staff correspondent reports.
Around 200 current and former students, some teachers and guardians joined the hunger strike near the main entrance of the institution in the capital's Bailey Road around noon.
But they ended their hunger strike after the teachers convinced them not to wage any tougher movement right now over the release of Hasna Hena.
"We will go on hunger strike when there will be no other way. If needed, we (teachers) will join you. The matter of her (Hasna Hena) release is now a legal matter and we all are respectful of law," said Jannatul Ferdous, a senior teacher of the English department.
"We hope, she will be freed soon through due legal process as she is innocent," the teacher told the students.
Newly-appointed acting principal Hasina Begum was present there at that time.
Then the agitated students, who have been staging demonstrations for the last four days demanding release of Hena, called of their hunger strike.
With placards in hands, the students chanted slogans demanding the release of their teacher.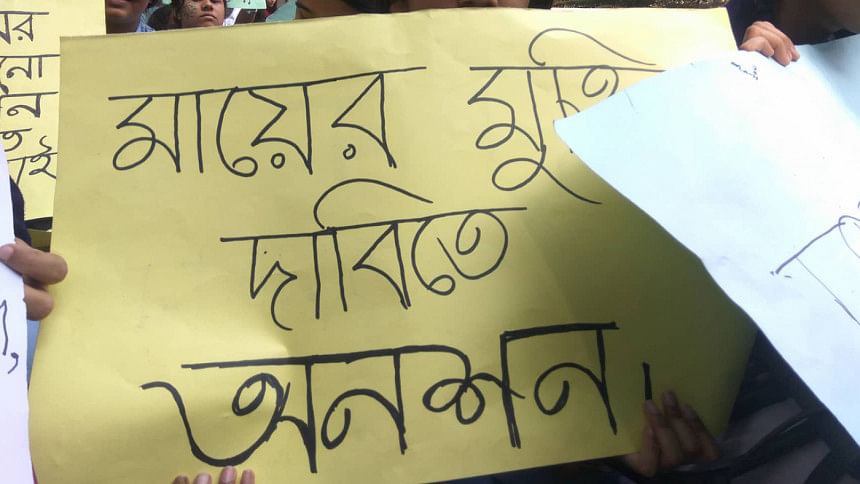 Those demanding release of Hasna Hena claimed that she has no involvement in humiliating the ninth-grader, Aritry Adhikary, and his parents. She was made accused in the case only because she was the class teacher of Aritry, the protesters claimed.
They demanded a proper investigation into the incident.
Meanwhile, a three-member delegation submitted a memorandum to the Education Ministry demanding withdrawal of a case filed for "provoking a ninth-grader to commit suicide" and release of Hasna Hena, now in jail.
WHAT IS THE AFTERMATH?
Three teachers -- acting principal Nazneen Ferdous, morning shift in-charge Zinat Akhtar, and class teacher Hena -- have been suspended following an education ministry order.
On December 4, Aritry's father Dilip Adhikary sued the three teachers for "provoking the suicide".
A Dhaka court on Thursday denied Hena bail and sent her to jail after she was arrested on Wednesday.
The probe body by the education ministry found the three teachers responsible. It was apparent that Aritry had to choose the path of suicide after not being able to tolerate her parents' humiliation, according to the probe report. The investigation also unearthed many other irregularities at the school, it added.
Meanwhile, the VNSC authorities appointed Assistant Professor Hasina Begum as its acting principal as the immediate past acting principal had been suspended over the suicide.
Another teacher of the institution, Mohsin Talukder, was made the morning shift in-charge. Zinat Akhtar, one the three suspended teachers, had been in that post.