US-Bangla questions Nepal's probe into March 12 crash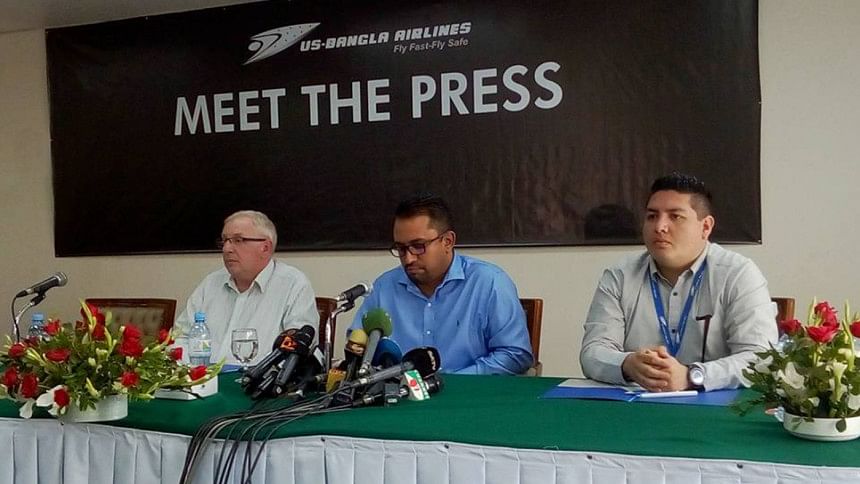 US-Bangla Airlines today raised question over the primary investigation report of the Nepalese authorities on the March 12 crash of its plane at Kathmandu airport that killed 51, twenty-seven of them Bangladeshis.
Disclosed on April 12, the report found no fault of the US-Bangla plane but skipped two vital issues related to the airport authorities, according to a statement of the airlines, read out by its Chief Executive Officer Imran Asif at a press briefing at Hotel Sonargaon.
Firstly, the clumsy communications of the Nepal's Airport Traffic Control (ATC) with the Pilot Abid Sultan while giving permission to land was not mentioned in the report, he said.
Secondly, he doubted the claim that a fire extinguishing team reached the spot within two minutes after the accident.
"We are doubtful about this information. Because, if the Nepal authorities had sent a fire extinguisher team to the spot within just two minutes, then lot of people would have been alive today," the CEO said.
It is also impossible to go to where the accident took place from the airport in such a short time, he added.
The US-Bangla Airlines expressed surprise atthe omission of ATC's "confusing" instruction to the pilot.
In the audio, uploaded shortly after accident by an unknown source, it was heard that multiple people from the ATC guiding the pilot to make landing with halting and confusing communications.
Nepal airport authorities had immediately transferred six of the controllers to unknown departments and remained tight-lipped about the reason.
"We don't know yet why they were transferred. But it's not usual to take such steps, if not found negligent," he said. 
The tower first cleared pilots of the US-Bangla Airlines to land, then asked them to get on 'hold' elsewhere without cancelling the clearance, and at the same time it allowed another airline's plane to land. 
"In our understanding, it is a violation of international rule to allow another aircraft to land or fly without cancelling the landing clearance given to previous plane," the CEO said in a statement.
The real reason behind the crash can now only be revealed by experts, who would be analysing the black box (sent to Canada) data and detailed probe report.
Flanked by two foreign aviation engineers, the US-Bangla top-shot also briefed the press about the airlines' strict maintenance procedure.