Eviction turns violent, cops fire on Tejgaon truckers
Mayor Annisul vows to clear off the road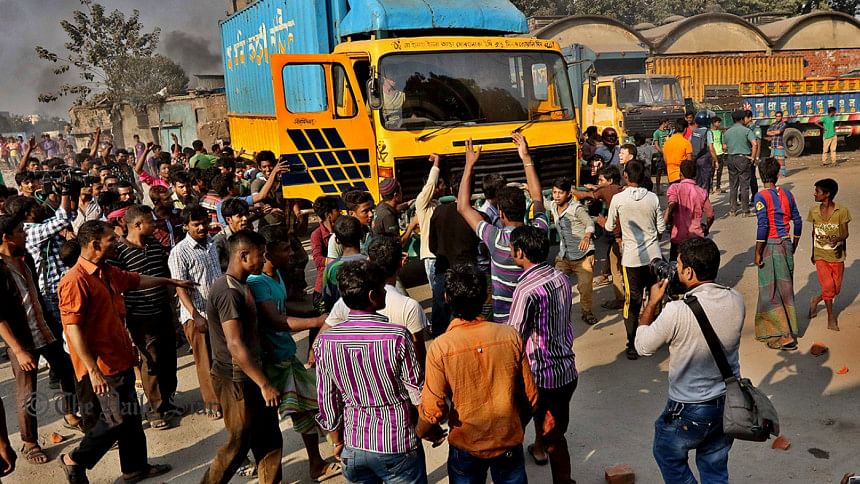 - DNCC eviction drive turns violent
- Transport workers block Satrasta road
- Journos hurt, media vans vandalised
- Mayor vows to clear off the road
At least one person was injured as police opened fire on transport workers after an eviction drive at the Tejgaon truck stand turned violent this afternoon.
The clash broke out in presence of Mayor Annisul Huq around 1:30pm when Dhaka North City Corporation was driving out the illegal truck stand on Tejgaon roads.
Bullet-hit Jashim Uddin, 40, a truck owner was taken to Dhaka Medical College Hospital for treatment, Sentu Das, an assistant sub-inspector of the hospital's police outpost, said.
Law enforcers fired several shots when the transport workers hurled brick chips at them during the eviction drive.
The agitating workers also burnt tyres and took to the streets at Satrasta intersection. They also chanted slogans protesting the drive.
The protestors assaulted The Daily Star photographer Anisur Rahman, bdnews24.com photographer Tanvir Ahmed and two city corporation staffs.
Tanvir's camera was smashed and he was taken to Samorita Hospital. Media vehicles of Channel i, Ekushey Television and two pick-ups of the city corporation were vandalised.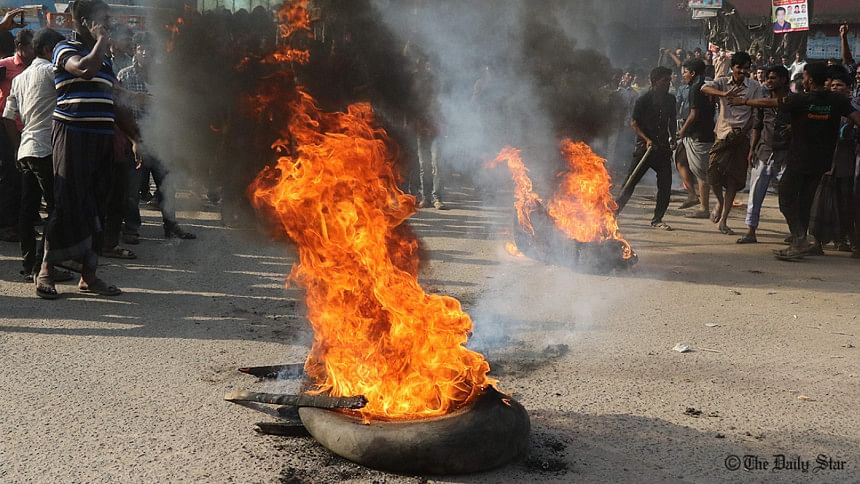 DNCC Mayor Annisul Huq, who was staying inside the office of Bangladesh Truck and Covered Van Drivers Union for two and half an hours, came out of the office around 4:30pm and assured the agitating workers of setting up a permanent terminal there.
Vowing to clear off the road, Annisul told the city corporation staff and authorities concerned not to be afraid of any untoward situation.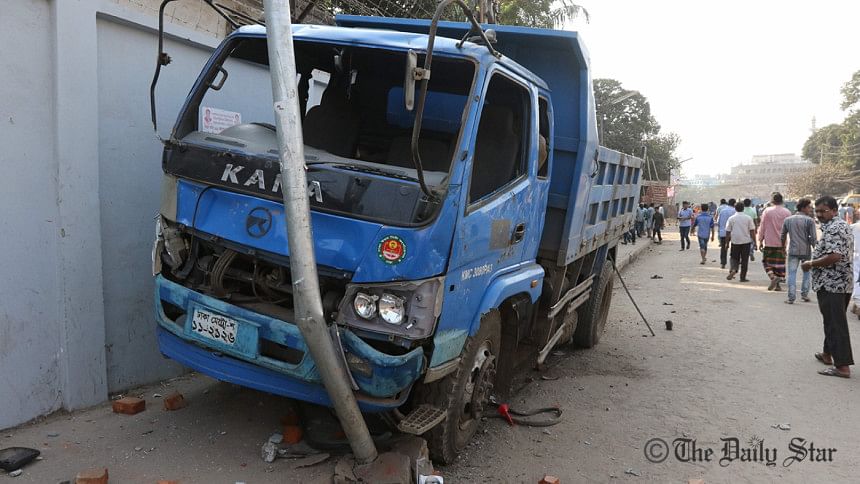 Earlier in the afternoon, Annisul held a meeting with leaders of Bangladesh Truck and Covered Van Owners Association in the area.
Talking to the reporters there around 2:30pm, he said, "We will not quit. We will continue the eviction drive for the sake of easing people's suffering in the area."
The vehicular movement resumed there around 5:00pm after the transport workers withdrew their agitation following the assurance from the mayor.
Shamsul Haque alias Shamsu, chief election commissioner of Truck and Covered Van Drivers' Association, said they withdrew their movement as the mayor assured them of setting up a terminal.
However, Rustam Ali Khan, secretary of Truck Owners' Association, said the untoward situation erupted following a misunderstanding.
Earlier on November 8, Annisul Huq issued an ultimatum till November 27 to the truck owners to clear the illegal infrastructures from Tejgaon terminal to increase parking space to reduce traffic congestion in the area. Blockade withdrawn after Dhaka North City Corporation Mayor Annisul Huq assured to set up a truck stand.