Suprobhat bus hit girl before hitting Abrar
Driver held profession license for light vehicle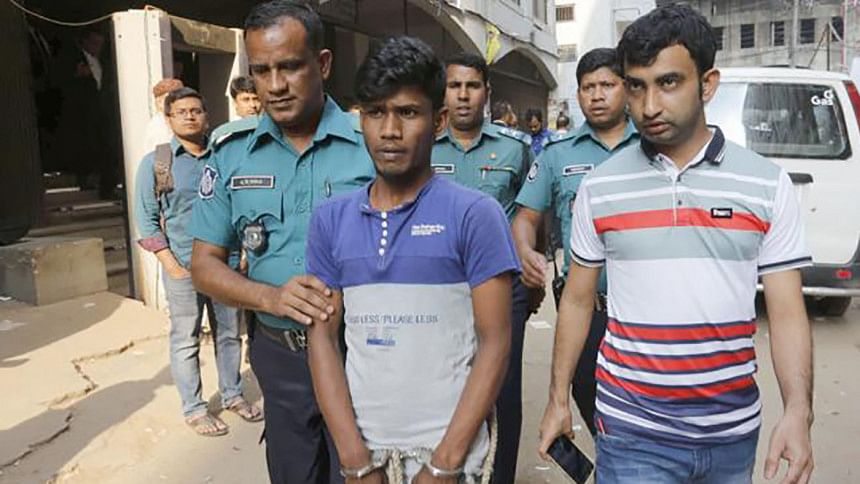 The suspected driver of the bus of 'Suprobhat Paribahan', which ran over Bangladesh University of Professionals (BUP) student Abrar Ahmed Chowdhury yesterday, was on a frenzy to flee the scene after the bus had earlier hit another pedestrian in Dhaka's Shahjadpur area.
The vehicle bearing the number plate Dhaka Metro-Ba-11-4135 hit Synthia Islam Mukta (20), also a student, in Banshtala area of Shahjadpur around 7:20am, leaving her injured, said Aminul Islam, inspector (Operations) of Gulshan Police Station.
"The suspect was driving recklessly trying to flee the scene after hitting Mukta and eventually ran over Abrar while he was using a zebra crossing in front of Icon Tower in Nadda area at 7:30am," the police official said.
Read more: Road crashes on rise despite govt measures
However, Mukta survived the accident with a bone fracture, he added.
Police arrested the driver, Sirajul Islam, and seized the Suprobhat Paribhan bus that was involved in the accident. The driver held a professional license for light vehicles and plied Gulistan-Gazipur route.
A holder of a professional license for light vehicles cannot drive heavy vehicles, said an executive magistrate of BRTA.
WHAT DO WE KNOW ABOUT ABRAR?
The victim, Abrar Ahmed Chowdhury, himself a road safety campaigner, met his tragic end at a time when Dhaka Metropolitan Police (DMP) was observing traffic week to bring discipline on the city streets.
Son of Brig Gen (retd) Arif Ahmed Chowdhury, he was a first-year honours student of International Relations department at Bangladesh University of Professionals (BUP). He was the elder of two brothers.
Police and fellow students said Abrar was crossing the road through the zebra crossing to catch a bus for his university around 7:30am when the Suprobhat bus hit him, leaving him dead on the spot.
PROTEST RAGES IN DHAKA
Following the death of Abrar, his peers and students from other educational institutions burst into protest since yesterday morning.
Reports came of blockades in all the key intersections in the capital. Thousands of students poured onto the streets chanting "We Want Justice", a trademark slogan of the student movement for road safety which took place in August last year.
Death of two college students on Dhaka's Airport Road sparked a wave of protests actively participated by students of almost all educational institutions, which lasted for more than a week and put Bangladesh's capital on a standstill.