SP's wife killing: 'Arms supplier' among 2 sent to jail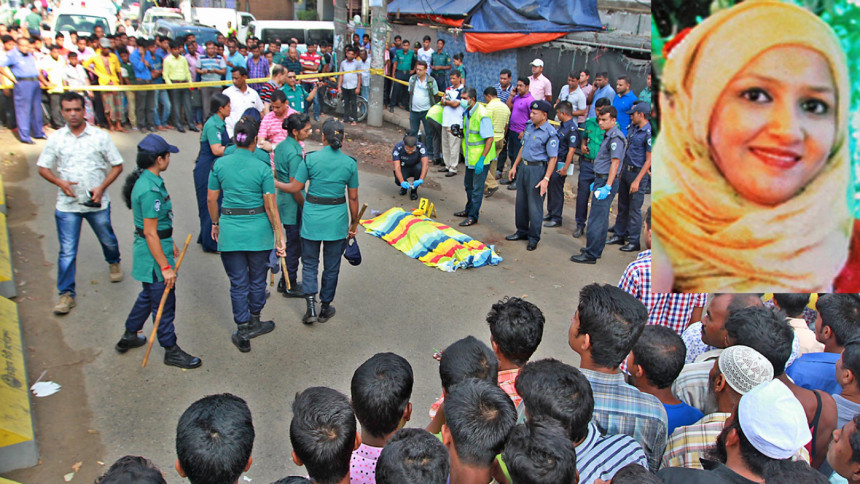 Two more people detained over the murder of Mahmuda Khanam Mitu, wife of Superintendent of Police Babul Akter, have been sent to jail by a Chittagong court this afternoon.
They were primarily identified as Ehsetul alias Haniful Huq alias Bhola, 41, an arms supplier, and Manir Hossain Manir, 23, said Debdas Bhattacharya, additional commissioner (crime and operation) of Chittagong Metropolitan Police.
They were held from Chittagong city in separate raids yesterday and today, said Detective Branch's Assistant Commissioner Kamruzzaman, also the investigation officer of the murder case.
The IO lodged an arms case with Baklia Police Station against the duo in connection with recovery of two arms from their possession.
Later, they were sent to jail after being produced before the court of Chittagong Metropolitan Magistrate Naurin Akter Kakon seeking 10-day remand for each in the arms case.
The remand hearing would be held on a later date, said court sources.
Meanwhile, in the Mitu murder case, Chittagong Metropolitan Court Judge Najmul Hossain Chowdhury sent Bhola to jail after he was produced before the court shown arrested with a 10-day remand prayer.
Bhola is said to be an accused of at least 16 cases including murder.
Manir was not shown arrested in the case, said the IO.
READ MORE: 7-8 killers took part in the mission
Six people have been held in this case so far including the latest detentions. Two have been shown arrested, who, according to police, confessed killing Mitu before a court.
So far, what police said is Wasim, one of the detainees who was shown arrested, was one of the three people who attacked Mitu.
On June 5, three assailants stabbed and shot Mitu dead when she was taking her son to his school bus stop at GEC intersection in the port city.
She was the wife of SP Babul Akter, a cop who spent most of his time curbing militancy. But now, there has been a whisper of his involvement in the murder.