Dhaka dwellers demand safe Wasa water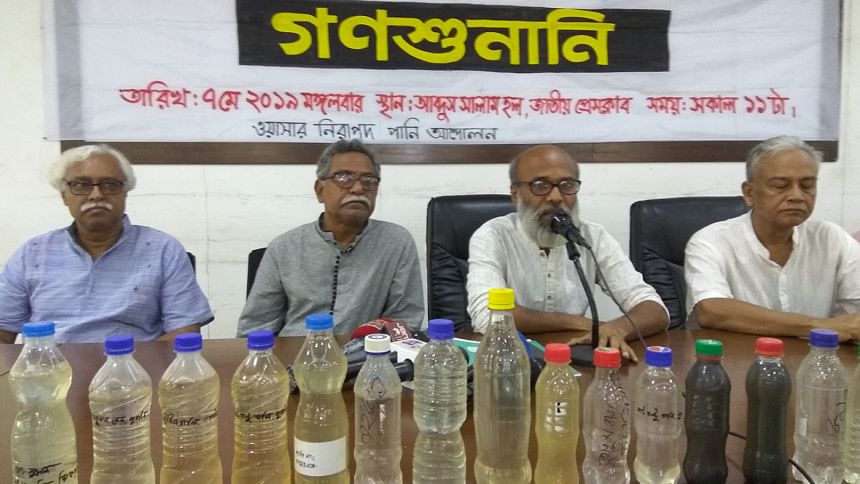 Dhaka dwellers demanded safe water from the state-run agency Wasa at a mass hearing organised on the quality of supply water held today.
Organised under the banner Wasar Nirapod Pani Andolon (safe water from Wasa movement) at Jatiya Press Club, they also placed a five-point charter.
During the hearing, they announced their five-point demand:
-- Ensuring safe water to all as soon as possible
-- Compensating sufferers of water-borne diseases.
-- Refund money taken from consumers after supplying contaminated water
-- Probing and punishing those responsible for contaminated water
-- Apology from Wasa MD for lying and his resignation if unable to discharge duty.
Convener of the platform, Mizanur Rahman, the man who tried to make Wasa's chief drink dirty water from Jurain, said they will not deter until their demands are met.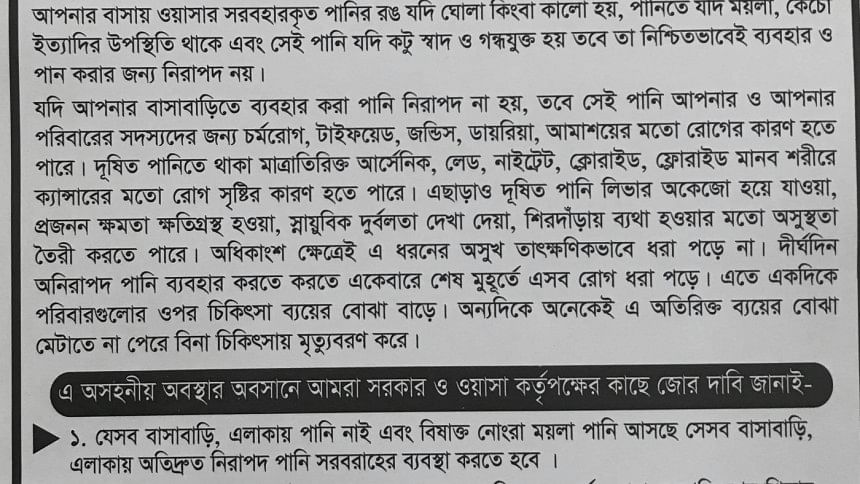 During the mass hearing, people from different parts of the city expressed their difficult experiences with the Wasa water and their dissatisfaction with it.
"The government has increased the salary of the government service holders, but we do not get any service from them," Mahbub Khokon, a resident of Jurain area, said at the hearing.
"How can they draw salary month after month without providing service," he asked.
Eminent economist Professor Anu Muhammad, Dr Lenin Chowdhury, joint general secretary of Poribesh Bachao Andolon (Poba), and Ruhin Hussain Prince, a leftist leader, were present at the hearing among others.