Conductor was driving Suprobhat bus: Cops
Conductor took the wheel after driver was held for hitting girl 10 minutes before Abrar was run over, say police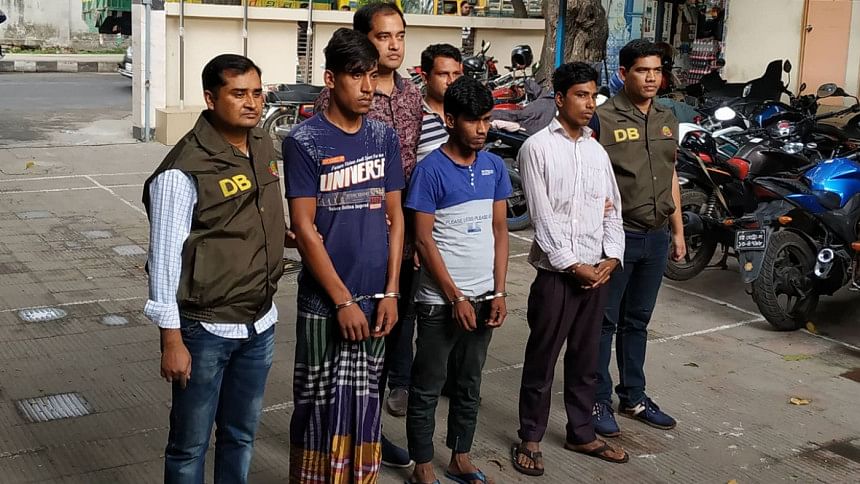 The bus of Suprobhat Paribahan that ran over a student in Dhaka and triggered public outrage was being driven by its conductor, police said today.
After the driver was held for running over a girl earlier that day, the conductor Md Yasin Arafat took the steering and ran the student over at Bashundhara gate, they said.
Detective Branch of Dhaka Metropolitan Police (DMP) disclosed the information at a press briefing to announce the arrest of the conductor today.
"Md Yasin, the conductor driving the bus during the accident does not have a driving licence," said Abdul Baten, an additional commissioner of DB police.
Yasin was held around 6:30am from Chandpur and the bus helper Md Ibrahim from Dhaka's Madhya Badda today, the detective officer announced.
Public outcry was triggered after the bus ran over Bangladesh University of Professionals' student Abrar Ahmed at Bashundhara gate on March 19.
In consequence, students took to the streets in solidarity and blocked major thoroughfares in Dhaka for safer roads – similar to what was seen back in August.
Bus conductor, helper remanded
A Dhaka court today placed the bus conductor and helper of Suprobhat Paribahan on seven-day remand each in a case filed in connection with Abrar's death.
Dhaka Metropolitan Magistrate Sadbir Yasir Ahsan Chowdhury passed the order after Inspector Kazi Shariful Islam of detective branch (DB) of police, also investigation officer of the case, produced them before the court with a 10-day remand prayer for each.
Earlier, on March 20, bus driver Sirajul Islam of Suprobhat Paribahan was put on a seven-day remand by a Dhaka court in the same case.
HOW THE INCIDENT UNFOLDED
Designated driver of the bus, Sirajul Islam was detained by traffic police at Banshtala area of Shahjadpur for running over a student, Synthia Islam Mukta, 20, around 7:20am on that day.
While the traffic police were taking the bus driver into custody, the helper Md Yasin took the steering and drove away swiftly to avoid capture of the vehicle.
The bus owner told the conductor Md Yasin to flee the scene with the bus over phone as he feared the vehicle would be vandalised by public, Abdul Baten added.
Only around 10 minutes after the conductor had taken over the wheel, he drove the bus right on top of Abrar Ahmed near the gates of Bashundhara Residential.
The conductor and the helper had managed to flee the scene.