'Use solar cells or relocate Rampal plant'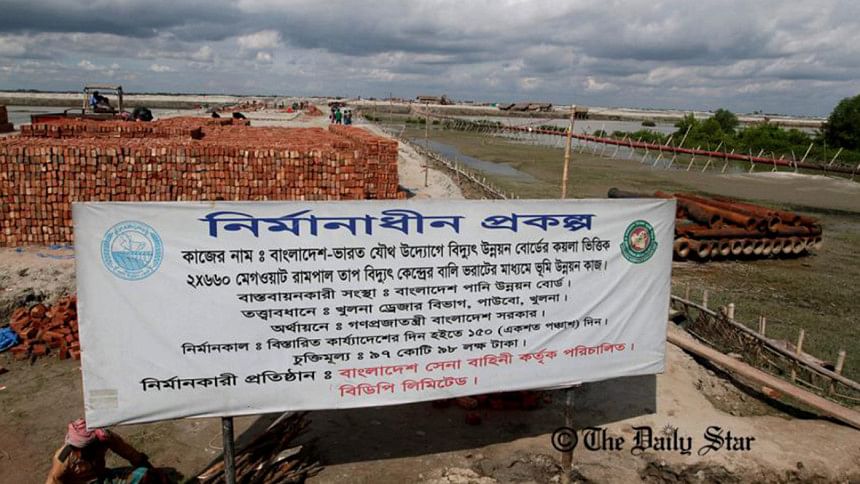 The National Committee to Save Sundarbans today urged the government to either relocate the Rampal power plant or use solar cells in the coal-fired project.
"I would like to urge the government to relocate the project from Sundarbans to Arpangachia in Barguna, 30km away from the forest," said Dr Badrul Imam, professor at the Department of Geology, Dhaka University.
READ ALSO: Risk of losing Sundarbans
As an alternative, he also suggested that the government can use solar power in the plant to save the Sundarbans from the damage of coal.
READ MORE: Sundarbans risks being World Heritage in Danger
Professor Abdul Aziz of Dhaka University said the government should take necessary measures to save the Pashur river, the lifeline of the Sundarbans mangrove forest, by using solar power cells instead of coal in the proposed Rampal power plant.
ALSO READ: Disaster written on the wall
"We should have to save the Pashur river from pollution," Prof Aziz said.
READ MORE: Construction starts late this month
They were speaking at a discussion programme marking World Water Day at Jatiya Press Club.
Amid public criticism against the 1320 megawatt Rampal Coal Power Project, the Indo-Bangla friendship power company has begun the construction work from September 2016 with the target to partial operation by December 2019.
An Indian company, Bharat Heavy Electricals Limited (BHEL), is constructing the plant under engineering supervision of German consultant Fichtner.
READ ALSO: Not merely a forest but life
The project includes residential and social facilities, water treatment plant, power sub-station, jetty, coal handling system and coal silo, ash handling and disposal facilities, and switchyard including substation.
The project area spreads over 1834 acres of land, all of which was already acquired.