Regular garbage collection in Lalmatia resumes finally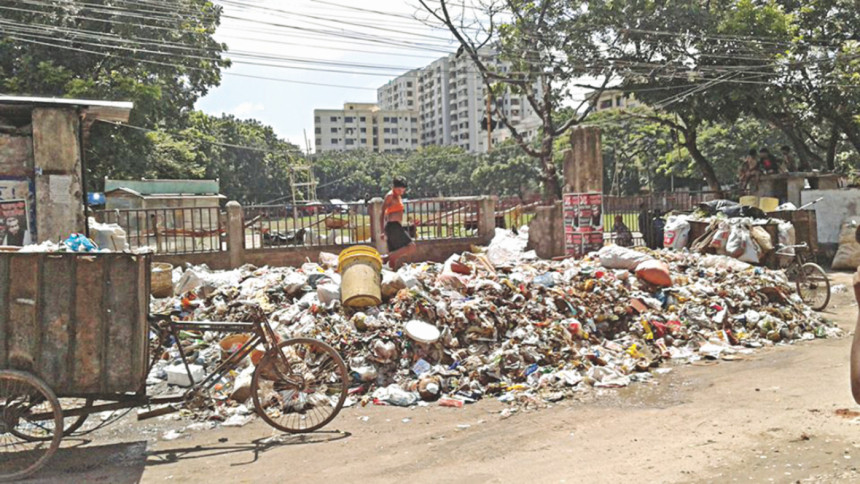 After a long week, regular garbage collection in the capital's Lalmatia, which was stopped over a dispute of establishing a secondary transfer station on its playground, has started again yesterday.
Visiting the area yesterday morning, it was seen that the cleaners, working under the DNCC, were collecting garbage from the houses with their van and then dumped it on the previous spot, in front of the Dhaka North City Corporation councillor's office. 
Besides, heaps of wastages were also seen in several intersections, spreading malodour, which was thrown by the people of the area during night times.
According to the DNCC officials, it will take a few more days to collect garbage of the entire area as around 14 tonnes of wastages generated from the locality every day. 28 cleaners with 14 vans regularly took part in the waste collection, they said.
There are seven blocks in the locality and around 3,000 families have been living there, they added.
DNCC insiders and locals said the problem arose when some of the dwellers opposed the DNCC's decision of building a secondary transfer station at one side of the Lalmatia New Colony Playground.
At one stage, the corporation stopped collecting wastages, alleged the locals.
Talking to The Daily Star, several dwellers alleged that the total cleaning system of the locality had collapsed as cleaners collected the wastages once a week in the last month.
"I think it was a total violation of one's right as every one pay taxes for various purposes including collection of domestic wastes. You can not stop waste collection in the name of any dispute," said a dweller of the locality, also a retired joint secretary.
Contacted, Bipon Kumar Saha, chief waste management officer of DNCC, said that the corporation has been keeping garbage on the eastern side of the street corner in front of the playground for almost 12 years.
Recently, DNCC decided to set up a secondary transfer station in that place and sought permission from different offices including the public works ministry, he said.
The corporation also started building the station but the ministries gave a direction to set the station inside the western part of the field, he added.
"But the work stopped after a few days as some locals opposed it. Since there was not enough space to store the wastages, the corporation had to stop their collections," said Bipon.
He said they have resumed the collection from yesterday as huge garbage started to pile in the locality and assured that the collection service will continue.