Rain brings miseries to city life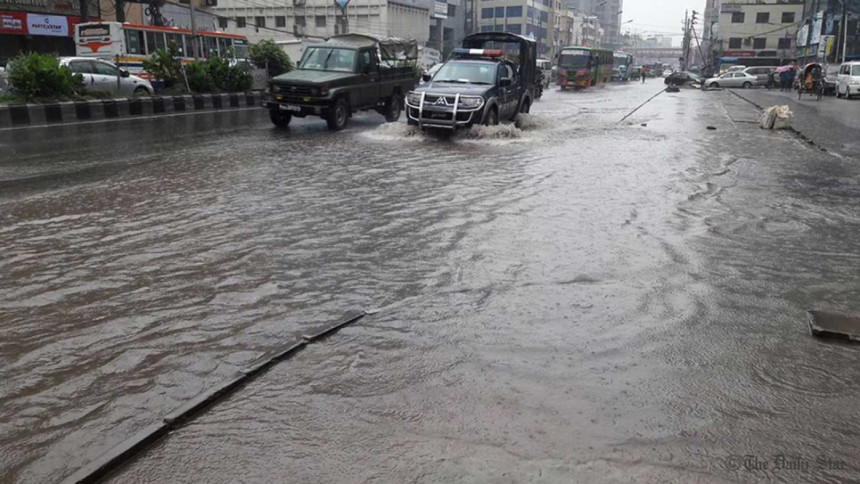 Intermittent showers since this morning disrupted the normal life in capital Dhaka and most parts of the country.
Commuters in the capital suffered immensely as important city streets went under water in Old Dhaka, Mauchak, Malibagh, Shantinagar, Mirpur, Razarbagh and some other areas causing serious traffic congestion, said city dwellers.
Witnesses said office goers and students suffered a lot due to water loggings at a good number of points.
The situation turned worse in areas like Rampura, Chowdhurypara and Mauchak where roads construction work under different development projects were underway, said Laila, a commuter from Malibagh.
Low-income people, especially the day labourers, suffered much as rain disrupted their normal pace of life.
The condition might get worsen in the coming days as the Met office forecast said the rain might continue for the next two to three days.
Abdur Rahman, an officer at the Met office, said the axis of monsoon trough runs through central part of Bangladesh. One of its associated troughs extends up to North Bay. The monsoon is active over Bangladesh and moderate over North Bay.
Light to moderate rain/thunder showers accompanied by temporary gusty wind is likely to occur at most places over Khulna, Barisal, Chittagong, Sylhet, Dhaka, Mymensingh, Rangpur, and Rajshahi divisions with moderately heavy to very heavy falls at places over the country.
The day and night temperatures may fall slightly over the country.
Meanwhile, the torrential rain worsened the flood situation in the northern districts as water levels in joint rivers located between Bangladesh and India were persistently surging due to the onrush of water from the upstream hilly areas for the past few days, said Abdur Rahman.
Heavy to very heavy rainfall is likely to occur in northern parts of the country as well, he added.