Question leak racket busted
CID arrests nine including govt officials, teachers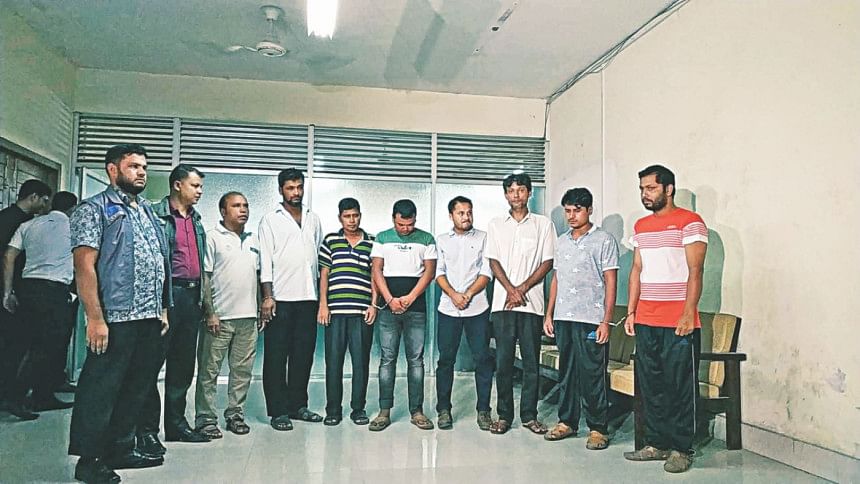 They targeted all sorts of public exams and recruitment tests. In the last five to six years, this organised question paper leak gang struck numerous deals with job and admission seekers in exchange of hefty sums, and helped many to cheat their way into universities and jobs.
Among the gang members are government officials and schoolteachers. Some others have been recommended for BCS jobs are waiting to be recruited. So far, they made over Tk 10 crore by leaking questions of different public examinations.
The Criminal Investigation Department (CID) of police busted the gang recently, arresting nine people, including the alleged mastermind. The arrests were made from Dhaka and Sirajganj in the last five days, Molla Nazrul Islam, special superintendent of CID, told a press briefing at its headquarters yesterday.
It comes at a time when the BCS written exam is underway and university admission tests are knocking at the door.
"This is one of the biggest gangs that leaked questions using electronic devices just 10 minutes before the exams began," he added.
"We came to know that five of their candidates passed the 38th BCS preliminary exams and were taking the written test that started on Wednesday. Three of them have been recommended for 36th BCS," a CID official said wishing to remain unnamed.
"Besides, around 60 to 70 of their candidates made their way into various government and bank jobs…. They took between Tk 1 lakh and Tk 20 lakh from each candidate," the official added.
The arrestees include Alip Kumar Biswas, a suspended assistant director of Bangladesh Krira Shikkha Protishthan (BKSP); Mostafa Kamal, an assistant administrative officer of Bangladesh Agricultural Development Corporation; Ibrahim, who has been recommended for a non-cadre post in 36th BCS; and Ayub Ali Badhan, who qualified in the 38th BCS preliminary test.
According to police sources, Alip is one of the masterminds. 
Police also arrested some schoolteachers and staff members for "helping the gang".
They are Golam Mohammad Babul, an English teacher at Agrani School in the capital's Azimpur; Anwar Hossain Mazumder and Nurul Islam, both office assistants of the school; Hosne Ara Begum, social science teacher at Dhanmondi Government Boys School; and Hasmat Ali Shikder, an office assistant there.
"Hasmat was caught red-handed with two copies of the BCS English written question papers and Tk 60,000 on Wednesday," said Molla Nazrul.
Hasmat used to supply the question papers to the gang members after collecting them from Hosne Ara. The two used to share the money equally, the CID official added.
Alip was held on Friday from Elephant Road and was placed on a four-day remand. The eight others were arrested on Wednesday.
"The gang used to solve the questions at a madrasa in the capital and at two rooms at AF Rahman Hall of Dhaka University," Nazrul said.
Examinees used to communicate with the gang members with the help of a tiny ear-piece, supplied by the gang.
Alip made over Tk 2 crore and Ibrahim more than Tk 3 crore out of this "business," the CID official said.
"Ibrahim comes from a poor family and yet his car is worth around Tk 36 lakh. He built a four-storey building on six decimals of land in Khulna. He also owns a duplex villa in Narail.  He also has illegal money exchange business," Nazrul claimed.
The CID official suspects that Alip, Ibrahim, Mostafa and Badhon got their jobs through dishonest means.
"Badhon, who is an English literature student of Dhaka College, could not say even one sentence in English. How did he pass the BCS preliminary exam?" the official asked.
Alip, a former activist of Chhatra League of Dhaka College, got the job of assistant director (admin) at BKSP in 2016 through the backdoor.
He stood 15th in the written exam for the job but managed to sway the selection board with influence as he was blessed by a state minister, said several BKSP officials requesting not to be named. Alip was suspended from his post in November last year.
Alip and Hosne Ara gave confessional statements before a magistrate yesterday, while Babul was sent to jail.
The six other arrestees were placed on police remand for two days' each. 
Police tracked down the gang following a series of arrests since October last year after the CID raided two dormitories at Dhaka University, hours before DU's "Gha" unit admission test last year.
At least 37 people were arrested in connection with the leak, 15 of them DU students. Of the 15, two are BCL leaders.
Earlier in December last year, the CID arrested a printing press worker, who used to help the gang by leaking questions hours before exams.
Over the years, question papers of all public exams -- JSC, SSC, HSC, medical college and university admission tests, and government banks' recruitment exams -- have all been leaked at some point.
The trend of leaking question papers hit a new low with the spate of question paper leaks in this year's SSC exam.