Sufferings mount on long routes
Transport owners announce suspension of bus services for an indefinite period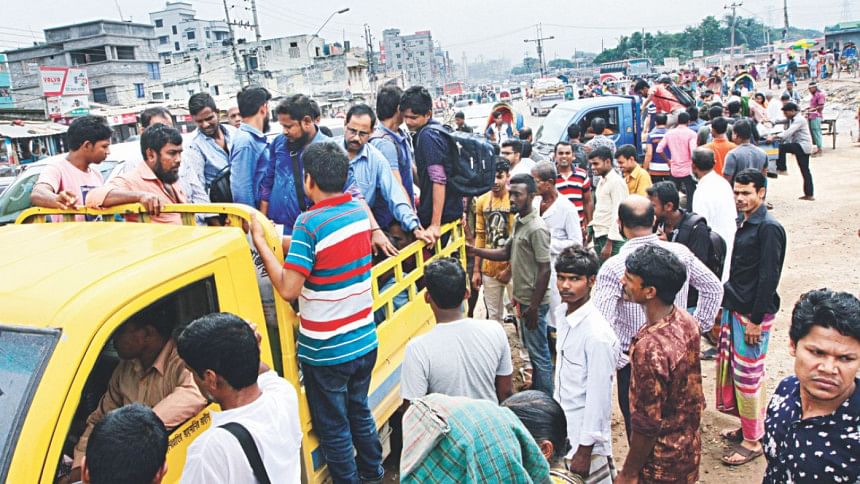 Bus operators yesterday declared suspension of long-distance bus service for an indefinite period on "security grounds", which is likely to worsen people's sufferings caused by the "undeclared transport strike".
Like the previous two days, transport owners and workers kept long-haul buses off the roads yesterday, affecting road communication between the capital and the rest of the country.
They ran only a handful of inter-district buses for what they said was fear of vandalism amid the ongoing student agitation for safer roads.
A small number of night coaches plied the highways in the last two days.
Yesterday, transport leaders said they would not run buses "until the situation became normal".
Khondaker Enayet Ullah, secretary general of Bangladesh Road Transport Owners Association, told The Daily Star, "No bus will operate from tonight, as the situation has worsened."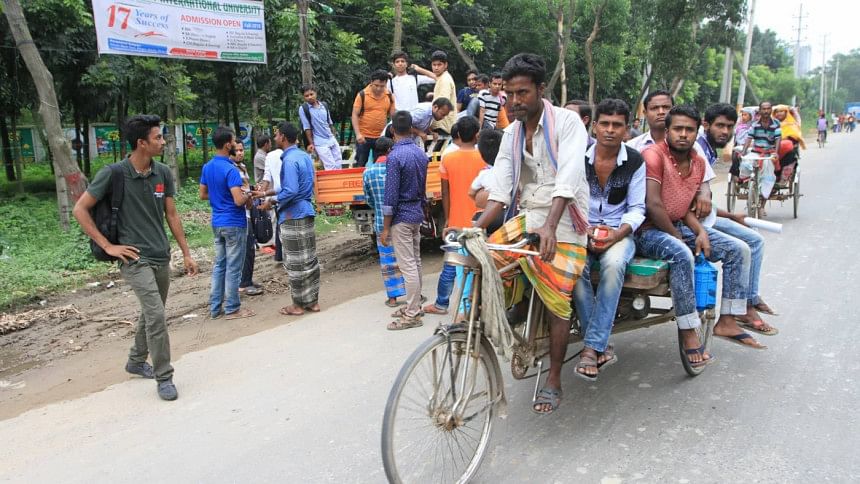 "From now on, bus service will remain suspended for an indefinite period due to lack of security," he said.
Asked, he said the decision was not a formal one but transport owners across the country have suspended bus services indefinitely as they do not feel their buses would be safe.
Queried why they were suspending bus operation on highways when students were agitating in towns and the capital, Enayet said, "Long-route buses have also come under attack."
Road safety campaigners have said that whenever there was strong protest against anomalies in the transport sector, bus owners and transport leaders halted their services.
It was nothing but a trick to weaken the justified movement of the people, they said.
Ashis Kumar Dey, general secretary of National Committee to Protect Shipping, Roads and Railways, said whenever any decision or action goes against the interest of the transport owners and workers, they go for "illegal strike, holding people hostage" and embarrass the government.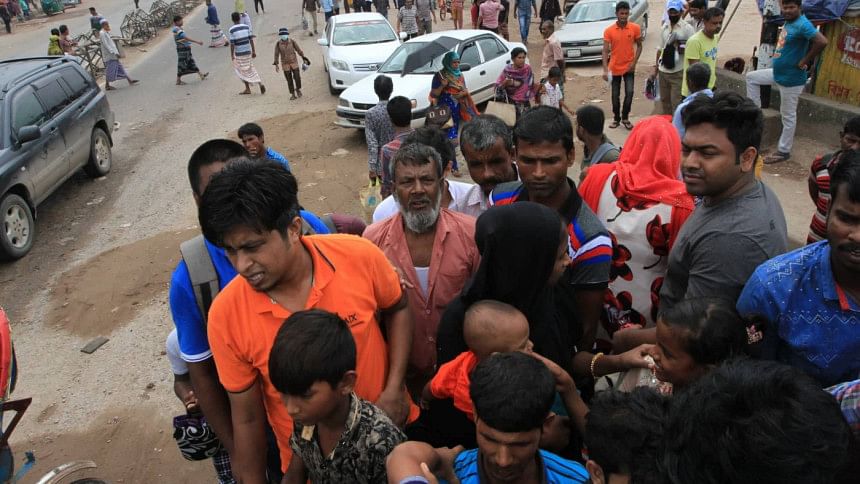 Such "hastily-called strikes", which cause huge public suffering, is illegal, he said.
Top leaders of the owners' and workers' platforms are ministers. Such "strikes" called their organisations are tantamount to violation of their oath of office, he said.
PUBLIC SUFFERING
Hundreds of passengers were stranded at Gabtoli, Mohakhali and Syedabad inter-district bus terminals in the capital yesterday as no long-distance buses left the terminals.
At Gabtoli, a huge number of passengers were seen looking for transport. Finding no buses, many of them rented pickups to reach their destination paying extra.
Faruk Hossain, a labourer, along with his wife and two children, had been waiting at Gabtoli since 7:00am yesterday. He had come to the capital from Sylhet the previous night.
"My son's right leg broke yesterday and doctors in Sylhet referred him to Dhaka for better treatment. But we decided to take him to Satkhira as one of our relatives who is a doctor works there," he told this newspaper around 3:00pm. 
"Now, how we will go there," he asked.
The situation at the other two inter-district terminals in the capital was the same.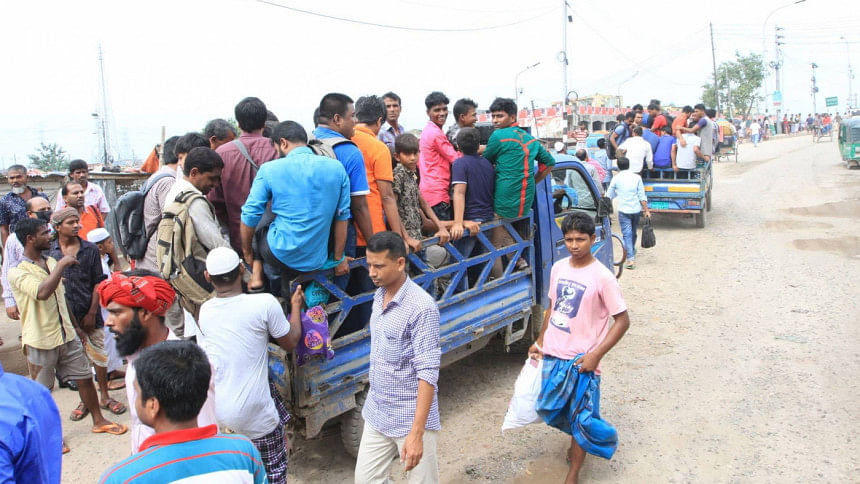 In such a situation, Bangladesh Road Transport Workers Federation, in a statement yesterday said they did not call any strike rather, suspended their services for the security of the owners, workers, passengers and vehicles.
The platform also regretted the ongoing public suffering and called on the protesting students to return to classes.
Shipping Minister Shajahan Khan is the executive president of the federation.
In Chittagong city, people thronged the bus counters in Goribullah Shah Majar area. However, all the ticket counters were closed.
Safique Ahmed, a businessman, said he would not be able to attend his business meeting in Gulshan of Dhaka today.
Ruhul Amin, president of Bangladesh inter-district road transport workers union, told reporters that they stopped plying vehicles fearing repercussion from the agitating students.
He claimed that buses heading for Feni and Noakhali were leaving Chittagong and bus communication with the hill tracts was normal.
Chittagong District Road Transport Owners Group in a press statement said they have suspended transport services for an indefinite period.
Similar situation prevailed in other districts, including Sylhet, Dinajpur and Pabna.
Meanwhile, the rush of people travelling in trains and launches increased in the last two days.
Shipping Minister Shajahan Khan held a meeting with labour leaders at his official residence on Mintu Road last night. The meeting decided that transport workers would run buses if they were given security, said Sarak Paribahan Sramik Federation General Secretary Osman Ali, reported Bangla Daily Prothom Alo.