Five held over fake FB pages
They used names of politicians, Rab says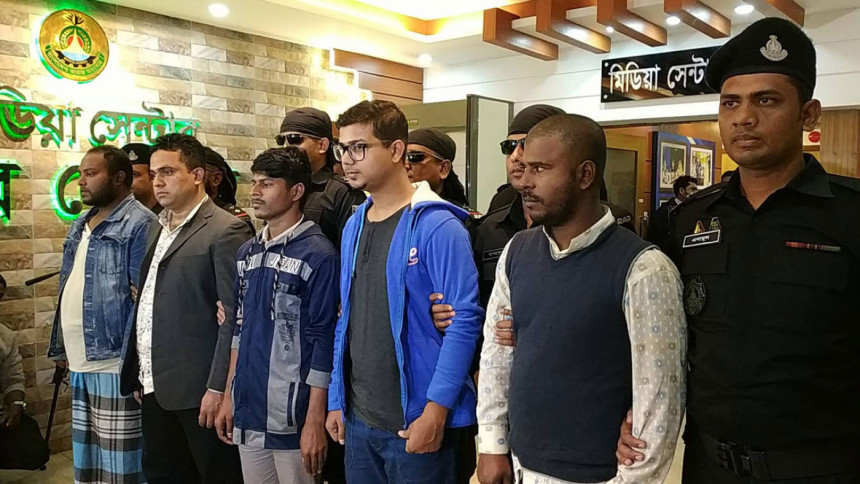 Rapid Action Battalion yesterday detained five people on charges of spreading propaganda and committing fraud by creating fake accounts on social media using names of several political leaders, including Prime Minister Sheikh Hasina.
They used those accounts to extort money and spread propaganda, Mufti Mahmud Khan, Rab's Legal and Media Wing director, claimed at a press briefing in the capital.
The detainees are Omar Faruk, 30, Sabbir Hossain, 24, Al Amin, 27, Aminul Islam Amin, 25, and Monir Hossain, 29.
Three of them were picked up from Moghbazar, Demra and Mohammadpur areas in the capital and two from Savar and Keraniganj.
"They opened numerous fake Facebook profiles using names of different political leaders and their relatives, including Sheikh Hasina, Sheikh Rehana and Saima Wazed Putul," said Mufti.
They also spread rumours and propaganda during the national elections, road safety movement and quota reform demonstrations, the Rab official added.
Among them, Faruk opened 36 fake accounts of ruling Awami League leaders, including six of the PM and one of her daughter Putul.
"On those pages, he used to provide his personal number and claimed that he was managing those pages after being recruited by the PM in order to collect information from across the country," Mufti said.
"After a short conversation, he used to ask for 'financial benefits' from those who spoke to him," the Rab official further said, adding that they were yet to know the exact amount of money he extorted in this way.
During primary interrogation, Faruk admitted to have promised nomination to some of the aspirants for the 50 reserved seats for women in the 11th parliament, according to Rab.
Another detainee Sabbir was the admin of the pages titled "Tarique Zia Cyber Force" and "Desh Netri Cyber Forum" and recently started sharing provocative posts on road safety and quota reform movements, said Mufti.
Rab said he was a cyber communication expert and accused in six cases, including four under the Digital Security Act.
Al Amin, an employee of a private company, was an admin of a Facebook page where he used to share fake information on the army, police and judiciary of the country, claimed the elite force.
Aminul was an activist of Islami Chhatra Shibir and used to circulate "comic items" on Facebook and Youtube, the Rab official said.
"Monir Hossain used his page 'Shotter Bishforon' to share ill-motivated posts and confusing information regarding the country's politics," Mufti claimed.
Filing of two cases accusing the five with the Savar and Hatirjheel police stations were under process.
The Daily Star, however, could not independently verify the claims of the elite force.