9 'robbers', 1 fake DB man held in Dhaka
2 revolvers, 22 bullets seized; 8 snatched motorcycles recovered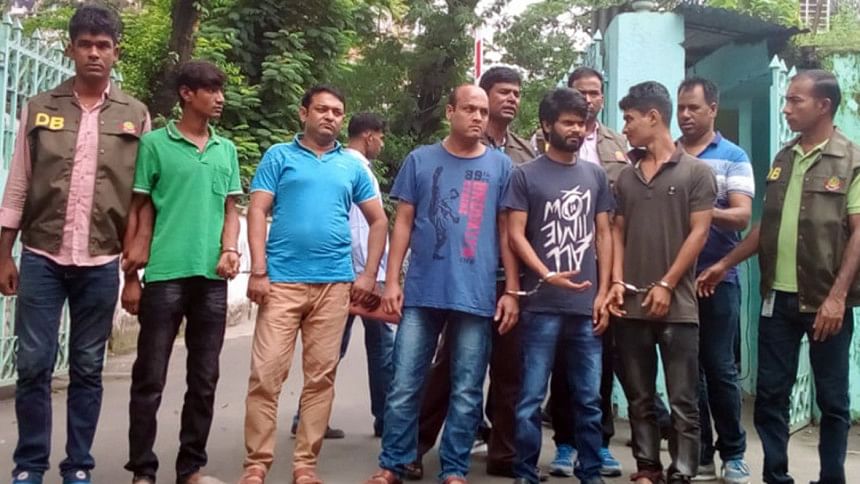 Detectives have arrested nine suspected members of different robbers' gangs and a fake detective in Demra and Mirpur areas of Dhaka.
The nine robbers were arrested while they were making preparation for a robbery in Demra area last night, said Devdas Bhattacharya, additional commissioner of Dhaka Metropolitan Police (DMP), in a briefing at the DMP media centre today.
Meanwhile, the fake member of Detective Branch of police was arrested from West Shewrapara of Mirpur last night, Bhattacharya told journalists.
Tipped off, a DB team of north division conducted a drive around 11:15pm yesterday and arrested five criminals from the spot, the police official said.
The arrestees are: Salim Uddin Ahmed alias Sabuj, 35, Rony, 35, Tipu, 24, Bappi, 23, and Salauddin Fakir, 23.  
The law enforcers also seized two revolvers, 22 bullets, and recovered eight snatched motorcycles from their possession, he said.
In another drive, another team of detectives arrested four suspected robbers -- Amzad, Musa, Alamgir and Faruk -- from in front of Ranimohol cinema hall in Demra area around 6:10pm.
The team also recovered one machete, two daggers, one knife and a pickup van from the spot.
Fake detective
Detectives arrested a fake DB policeman, Nurul Amin, along with two pistols and 10 bullets from West Shewrapara of Mirpur yesterday, the police official added.