Ban Ki-moon arrives in city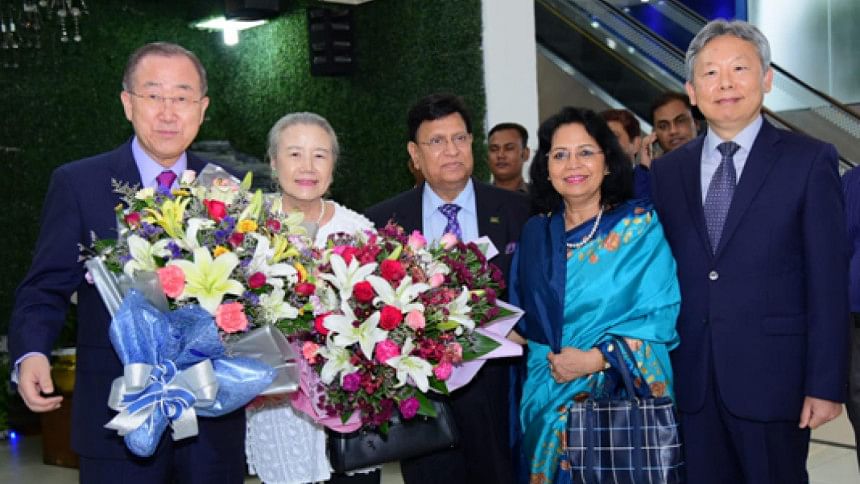 Former UN Secretary General Ban Ki-moon today arrived on a two-day visit to attend the "Dhaka Meeting of the Global Commission on Adaptation (GCA)".
Foreign Minister Dr AK Abdul Momen received the South Korean diplomat who served as the eighth Secretary-General of the United Nations for the two terms from January 2007 to December 2016 at Hazrat Shahjalal International Airport at around 5.55 pm.
After arrival, Ban Ki-moon and Momen held a brief meeting at the VIP terminal of the airport.
Prime Minister Sheikh Hasina will inaugurate the one-day 'GCA Dhaka Meeting' meeting tomorrow at Hotel InterContinental where Ban Ki-moon, the current chair of GCA, will address a session titled 'way forward and next step' towards climate change adaptation.
Marshall Island President Dr Hilda Heine has arrived in the city this morning as well to attend the meeting.
Before the inaugural session, Premier Sheikh Hasina will hold a joint meeting with the Marshall Island President and the former UN chief at the same hotel to discuss various issues related to climate change adaptation efforts.
In the opening session of the meeting, Dr Hilda, Ban Ki-moon and World Bank CEO Dr Kristaline Georgieva who is also the CGA Co-Chair will speak apart from the Bangladesh prime minister while foreign minister Momen will deliver the welcome address.
The meeting will end at noon with the remarks of Environment, Forest and Climate Change Minister M Shahab Uddin.
Different sessions titled 'community dialogue', 'action tacks – mobilizing accelerated adaptation and support', and 'mobilizing a global audience – communication tools and events' will take place after the inaugural session.
The Marshal Island president, Ban Ki-moon and the World Bank CEO are also scheduled to visit Rohingya Camp as well as Khrushkul Special Asrayan Project at Ukhiya in Cox's Bazar in the afternoon.
Foreign Minister Momen will host a dinner for the dignitaries at Hotel InterContinental in the evening.
Ban Ki-moon will leave Dhaka in the early hours of Thursday while the foreign minister will be present at the airport to see them off.
The CGA, leading by Ban Ki-moon, Bill Gates, co-chair of the Bill & Melinda Gates Foundation, and World Bank CEO Georgieva, is guided by 32 commissioners and 19 convening countries, representing all regions of the globe, and co-managed by the Global Center on Adaptation and World Resources Institute.