U-loops for easing gridlock
Land acquisition related complications leave project in limbo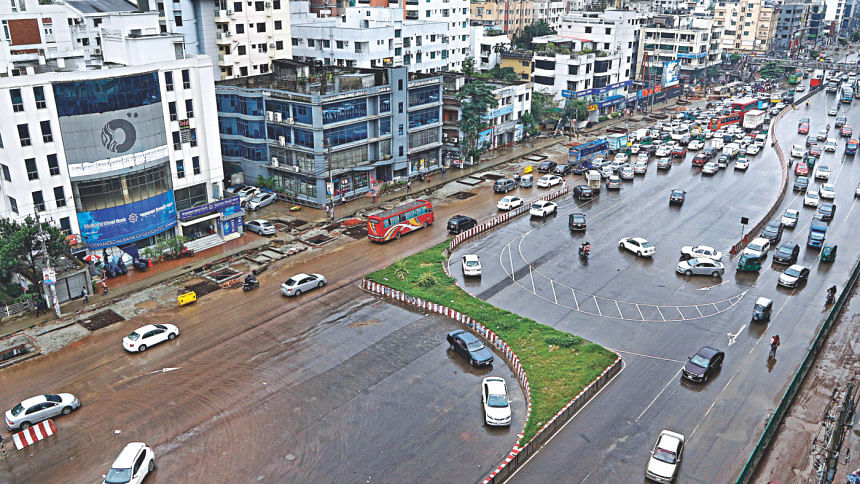 Though the U-loop project from Uttara to Saatrasta was undertaken with an aim to ease traffic congestion in Dhaka, it could not be completed over the last three years due to land-related complications.
The project was initiated by the late Dhaka North City Corporation (DNCC) Mayor Annisul Huq. So far only two out of 11 U-loops have been completed and work on another is going on.
Project director of the U-loop, Khandoker Mahbub Alam of DNCC said the construction work of eight U-loops could not be started due to complexity in land acquisition.
The complication has already been resolved and a revised project proposal of Tk 31.81 crore has been sent to the Planning Commission on October 7 through Local Government Division, he added.
He said the complication -- involving land -- has been resolved verbally and they are just waiting for approval from Planning Commission. 
"Once we get permission, we will start the work and hope it will be completed within six months," the project director said.
Now they are trying to implement the project taking land from government agencies, he said.
The project cost was Tk 24.83 crore initially. It has gone up due to compensation to relocate structures of Road Transport and Highways Division, he added.
The U-loops will be constructed at Kuril level crossing, Banani-27, near Banani Railway Station, Banani Chairmanbari, Amtali, Mohakhali Bus Terminal, Kohinoor Chemical Intersection and Saatrasta in Tajgaon.
Two U-loops near Uttara Jasim Uddin Road and in front of Rab-1 Office were completed and opened to traffic around six months back, he said.
Ninety percent work on another at Kawla has been done, he added.
DNCC needs 1.36 acres of land from Roads and Highways Department (RHD), 0.22 acres from Bangladesh Railway, 0.09 acres from Land Record and Survey Department and 0.06 acres belonging to National Housing Authority to set up the U-loops.
The revised project proposal was sent to the LGD in September incorporating the compensation of Tk 5.50 crore to Roads and Highways Department and it was sent to the Planning Commission on October 7 this year, said Mahbub.
DNCC initially took the decision to build 22 U-shaped loops along a 36-kilometre stretch of Dhaka-Gazipur Road to ease traffic congestion. A feasibility study was carried out at the time, and the number was brought down to 11 as Ashulia and Gazipur are under other administrations.
SM Salehuddin, chief adviser of M/S Humayara Enterprise, who was involved in the feasibility study of the project said traffic congestion happens at all the turning points and intersections of the city.
They observed that vehicles start making U-turn from the middle lane or left lane -- blocking the main flow of traffic, he said. "We will separate them with a barrier from 200ft behind."
A vehicle that wants to go straight would be able to do so uninterrupted due to the U-loop, he said.
It is possible to ease 30 to 40 percent of traffic congestion through U-loops, he said.