Off the streets and back to school
After photo in Star, social org lends hand to Nayeem, father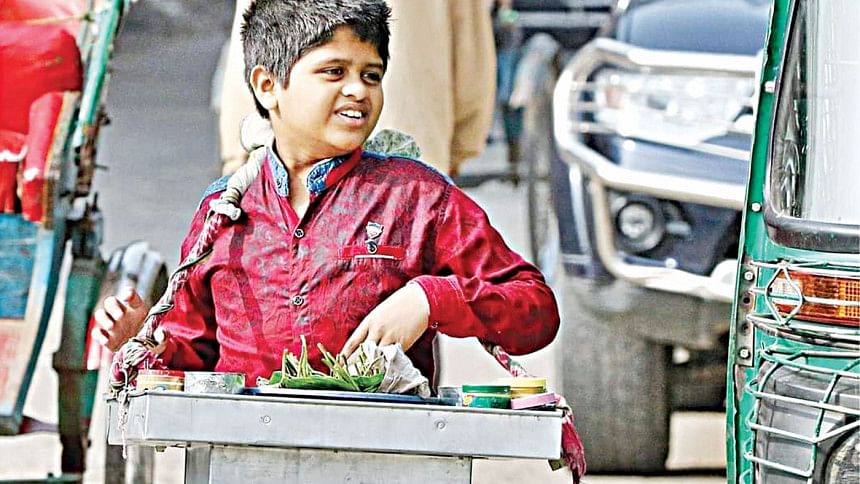 A few days ago, commuters would come across a boy, aged around nine to 10, selling cigarettes and betel leaves from a heavy metal box suspended from his shoulders, on the roads near the capital's Mugda Medical College and Hospital.
Now, the same boy, Nayeem, cannot be seen on the roads anymore. He is waiting for the day schools reopen, the day on which he will carry his backpack and rush to class once again.
Nayeem garnered some attention after The Daily Star published a picture of him on December 21. Following the photo-story, Facebook-based social organisation "Songjog: Connecting People" decided to help him out.
Members of the organisation admitted him to Manda Government Primary School in Mugda and declared to take responsibility for all expenses of his studies till 10th-grade.
Son of rickshaw-puller Liton, Nayeem had no other option but to help his family earn some bread since the start of the pandemic, especially because his mother fell ill and could not continue work as a domestic help.
With such financial difficulties, his hopes of going back to school were dwindling.
In December last year, when asked about school, Nayeem had explained, "I really do want to go to school. But the Tk 200-300 I make, working four-five hours a day, is immensely helpful for my family."
Songjog also handed over a new rickshaw-van to Nayeem's father, so that Nayeem, now enrolled in first-grade, does not come under any financial difficulty.
Engineer Imtiaz Ahmed Suhan, co-founder of Songjog, said, "We are glad to be able to stand beside Nayeem, but there're many like him in society. If all affluent people come forward, it'll be possible to assist more children like him, and change the unequal state of our society."