Reinvention imperative for business
Say speakers at BYLC summit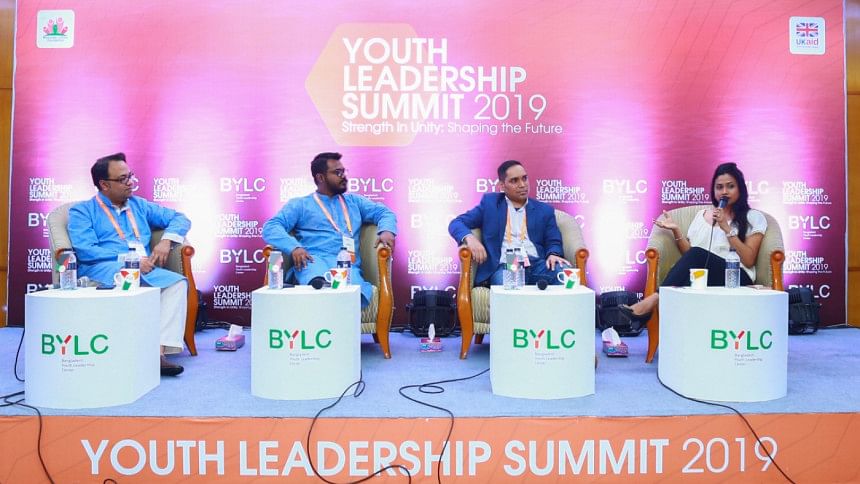 To be successful, aspiring entrepreneurs should be ready to take risks and learn how to reinvent their businesses, stated speakers at a panel discussion titled "Entrepreneurship" on the second day of the Youth Leadership Summit organised by Bangladesh Youth Leadership Center (BYLC).
The panel, consisting of reputed entrepreneurs, provided a practical orientation to the delegates on the opportunities and challenges of entrepreneurship, and how today's youths can prepare themselves to start their own venture.
Pial Islam, managing partner of pi STRATEGY, who was also a moderator of the panel, said reinvention is the key to staying relevant. "Most entrepreneurs around the world haven't become successful by staying in the same place. They have become successful by reinventing their product, team, and market," he said.  Ivy H Russell, founder and CEO of Maya; Bijon Islam, CEO of LightCastle Partners; and Ovick Alam, co-founder of WebAble, attended the session as panelists.
A concurrent panel on "Leadership for the public good" was also organised on the same day.
"A key purpose of leadership is giving voice to the voiceless and marginalised groups of society," said Dr Abdun Noor Tushar, CEO of Nagorik TV.
Md Ahsanul Arefin Chowdhury, e-learning expert, a2i Programme; Rayhana Taslim, project director, Establishment of 9 Government Secondary Schools Project, DSHE, Ministry of Education; and Shakil Ahmed, associate director, Public Affairs, Teach for Bangladesh, spoke as panelists at the session.