Rampal power plant is illegal: Sultana Kamal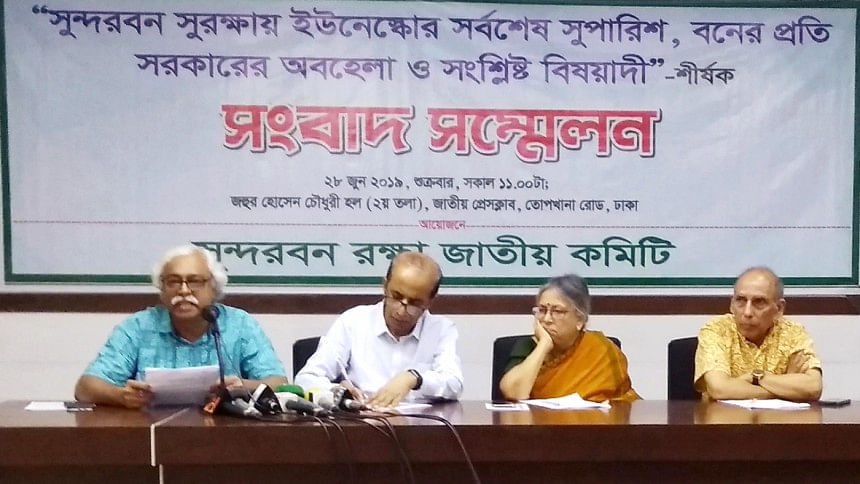 Eminent environmentalist and rights activist Sultana Kamal has said that the establishment of Rampal power plant near the Sundarbans is illegal and anti-constitutional.
"People are the owners of all assets in the state. The government cannot take any decision alone going against the people's opinion," she said at a press conference in Dhaka today.
"If this decision [establishment of Rampal power plant] is taken avoiding the objections of the people, then I will say it is anti-constitutional and illegal," she adds.
The National Committee to Protect the Sundarbans organised the press conference in Jatiya Press Club following a recent declaration of Unesco, which termed the world's largest mangrove forest as a world heritage "in danger".
"It is a matter of shame that Unesco has listed the Sundarbans in danger list. We urge the government not to go forward with the power plant project," says Sultana.
"If the Sundarbans is destroyed, its liability will go upon the prime minister and, as a nation, on us," she adds.
Shamsul Huda, executive director of Association for Land Reform and Development (ALRD), said none of the development activities will be fruitful if the forests, rivers and nature is not protected.
Ruhin Hossain Prince, a member of the committee, said if the government does not stop the power plant, it will call a destruction to the world's largest mangrove forest.
MA Matin, general secretary of Bangladesh Porinesh Andolon (Bapa), said: "The Sundarbans is a global asset. People are protesting around the world for its protection and it will be more intense in the future."