Mr. and Mrs. Gould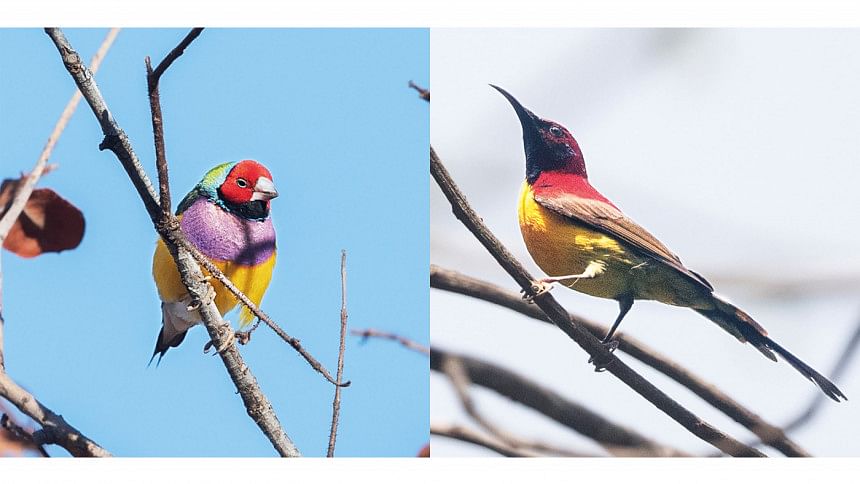 I became interested in the work of the Goulds after noticing that two of the prettiest birds I have seen bear that name. John Gould (1804-1881) was an English ornithologist and author. His wife Elizabeth Gould (1804-1841) was an artist. The aforementioned birds are Mrs. Gould's Sunbird and Gouldian Finch.
John Gould was trained as a taxidermist. He excelled in it and was sought after by contemporary ornithologists to preserve their avian specimens. Soon he was appointed Curator and Preserver at the museum of the Zoological Society of London where he was responsible for stuffing and mounting bird specimens sent from around the world to the Society.
One day John's co-worker introduced him to his sister Elizabeth. John and Elizabeth were married shortly. Soon Elizabeth started drawing and painting the birds that John preserved for his customers. John, an instinctive businessman, recognized her artistic talent and started selling her artwork to his taxidermy customers.
In 1830 the Society received, from India, a shipment of birds of the Himalayas. While preserving them, John saw an opportunity to make a book. He would write and Elizabeth would illustrate this book. Before starting the project, however, Elizabeth learned a new technology, lithography, which allowed her to make nicer pictures than the woodcuts she was doing. This book - their first - on the birds of the Himalayas included 80 hand-coloured lithographs of 100 bird species of the Himalayas, along with text written by John.
These books were not mass-produced like today. Instead, the author announced a limited number of copies and sold subscriptions to them in advance. In addition to Gould, the subscription method was employed by John James Audubon in the United States to support his work.
In recognition of Elizabeth's work, one of the birds of the Himalayas – a sunbird – was named after her.
In 1838, the Gould family travelled to Australia and started working on birds there. One result of this trip was the seven-volume Birds of Australia. They returned to England in 1840. Sadly, Elizabeth died shortly thereafter after giving birth to her eighth child.
In his prolific career, John Gould published eleven illustrated books on birds. In addition to his magnum opus on Australian birds, he produced seven volumes on the birds of Asia and five volumes on the Birds of Europe. He also made books devoted to Trogons, Toucans and Partridges. He made a fortune from selling these books.
We may never fully know the extent of Elizabeth's contributions to these works. As was often the case with women in Victorian times, she has not one to claim credit. Eight books that John Gould published during her lifetime all bore only his name as the author, but when a collection of her letters was discovered in 1938, it became clear that her contributions to these books went substantially well beyond her illustrations.
After she died, John Gould named a pretty Australian bird after her: the Gouldian Finch. He never recovered emotionally from Elizabeth's death nor did he remarry. In his later years he developed a passion in Hummingbirds, contributing to a Hummingbird craze in Europe. When he died in 1881 John Gould had 5738 hummingbirds in his collection. Today the world remembers him and Elizabeth for their books and birds and animals named after them.
facebook.com/ikabirphotographs or follow "ihtishamkabir" on Instagram.