To keep the language alive
Thokbirim holds monthlong book fair to promote Garo literature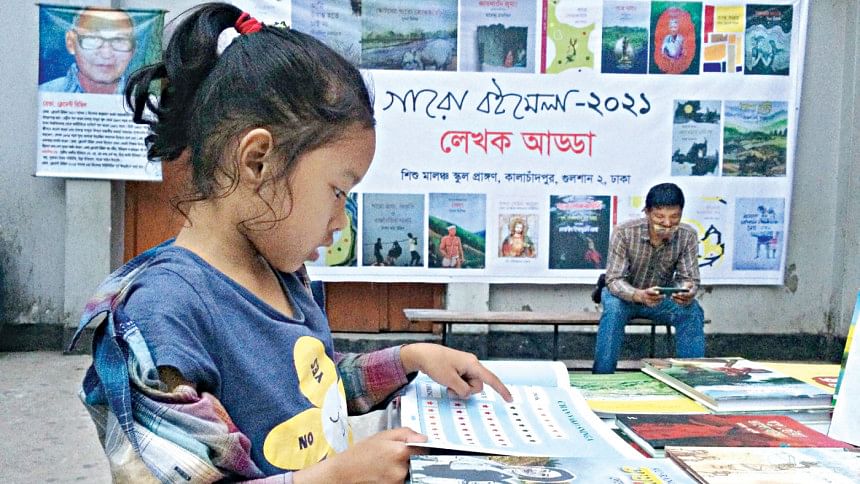 Nandita Ritchil and Natasha Manda, two young volunteers with their hands full of books, were talking with attendees with great enthusiasm at a book fair in the capital's Nadda.  
The two girls were discussing the books' premises and writers, and throughout the time, kept a Facebook Live running to invite avid readers to physically visit and buy from the literary collection.
Although it seemed like a regular book fair, one thing stood out: the language.
The aforementioned conversation was predominantly in Garo language, and the books were written by Garo writers to promote Garo literature.
Publication house Thokbirim organised the unique fair in the month of language at Shishu Malancha School. The event started on February 21 and today is its last day. It will be open for all from 4pm to 9:30pm.
"It feels great to have a book fair of our own. This gives us the chance to practise Garo language and literature in the public sphere," said Natasha Manda.
Thokbirim participates in Amar Ekushey book fair every year. But as this year's Ekushey book fair has been delayed, Mithun Raksam, Thokbirim's owner, stepped forward to organise this fair for the first time and bring the literature at the Garo community's doorstep.
At the fair, books of Garo folklore, poems, and travelling and short stories are some popular choices for visitors.
Some books that are drawing readers' attention are Jatthangni Jumang (Jatisottar Sopno) by Matendra Mankin, Ami Udbbastu Hote Chaina by Theophil Nokrek, Garo Folklore translated by Debashis Emmanuel Rema, 1971 Smrititye Garo Soronarty by Sumona Chisim, Garo Paribarik Ain by Sohel Mrong and Garo Bhasa Songskriti o Rajnoitik Songkot by Disan Anto Ritchil.
"We know from newspapers that at least 14 indigenous languages are at risks of extinction in Bangladesh. It's because there hasn't been much practice of the languages and patronage from anyone. Therefore, to keep our language and literary practice alive, I have organised this fair," Mithun said.
The programme is being held at the location with the highest Garo residents in Dhaka. Around 5,000 Garo people live in Nadda, according to local leaders.
Coming to the fair, Dhaka Wangala Celebration Committee Nokma (traditional Garo chief) Subhajit Sangma said, "This initiative will absolutely help create scope for Garo writers and flourish our literature. Thokbirim is carrying out this initiative alone, but institutions like Bangla Academy and International Mother Language Institute should come forward to support such endeavours."
At the fair, Apurbo Mrong, who published the poem collection "Mrinmoyee Mon More" in 2017, said, "There is hardly any literature for children and youths in Garo language. If we can't ensure that then the next generation of our community won't be interested in reading our literature. We have a scope to work on this, but Garo writers and publishers need support."
Another poet, Kenus Somrat Mrong, who published the book "Wangala Anchingnni Wangala (Our Wangala)", said, "Garo writers must write more, and such literary festivals should be promoted in our community. Thokbirim is bridging the gap between Garo writers and readers. The more Garo youngsters read books, the more they will be able to enrich themselves and help the community in various ways."
On the inaugural day, noted author Selina Hossain came to inspire Garo writers and support the initiative.
Praising the initiative, she said, "In this month of language, we also need to pay attention to the indigenous languages and work to help the languages and literature flourish."
Contacted, International Mother Language Institute Director (Language, Leaning and Planning) Prof Safiul Muz Nabeen said, "We can help in language research and arrange some training on language. But regarding any fair, we do not provide any direct support."