ACC can call anyone, says minister; journos protest 'indecent summon'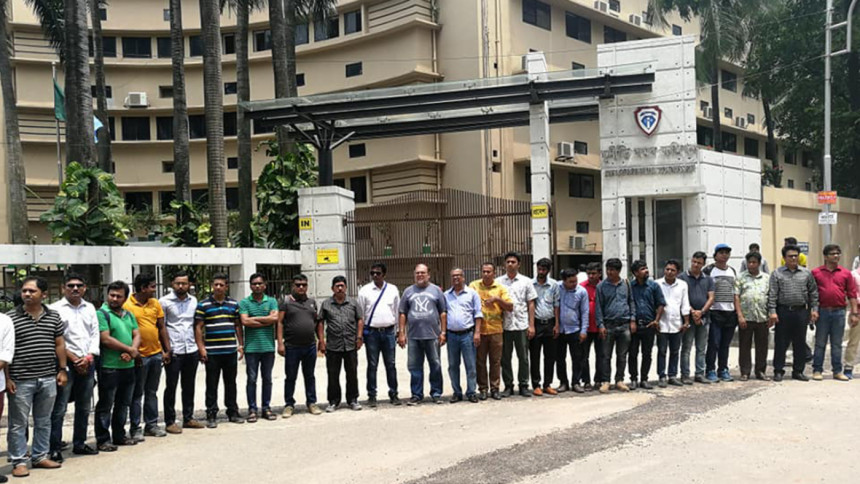 The Anti-Corruption Commission (ACC) can call anyone for its clarification over an issue, the home minister told media, as a group of journalists protested what they claimed an "indecent summon" of their fellow.
Home Minister Asaduzzaman Khan made the remarks in reply to a query from reporters after a programme on International Day Against Drug Abuse and Illicit Trafficking.
Asked about the language used in a letter issued to summon a journalist by the anti-graft body, the minister said, "Ask the ACC".
The ACC yesterday asked a special correspondent of Bangla Tribune to appear before it for testimonial on the alleged bribing of its Director Khandaker Enamul Basir by suspended DIG of police Mizanur Rahman.
Protesting the "indecent summon", journalists gathered in front of the gates of ACC in Shegunbagicha, Dhaka, this morning and formed a human chain.
WHAT DID ACC CHAIRMAN SAY?
While talking to reporters today, ACC Chairman Iqbal Mahmood said if the enquiry officer did any wrong in summoning the journalist action will be taken against.
Talking to The Daily Star, ACC Public Relations Officer Pranab Kumar Bhattacharya said the language of summoning both accused and witness is defined in its rules.
"If any letter is issued violating rules, then it will certainly be withdrawn," he added.
WHAT DID THE LETTER SAY?
In the letter signed by ACC Director Sheikh Md Fanafillah, the graft watchdog asked journalist Dipu Sarwar to appear before its headquarters today.
The letter also threatened of legal consequences against the journalist on noncompliance.
The online news portal on Sunday ran a report on the bribery allegation. Earlier, private television channel ATN News aired a report in which the DIG made allegation of giving Tk 40 lakh to Basir who "promised" him that he would exonerate him of all charges.