Joining hands to wash hands
Ward councillors, local leaders, residents come together in Dhaka to install handwashing facilities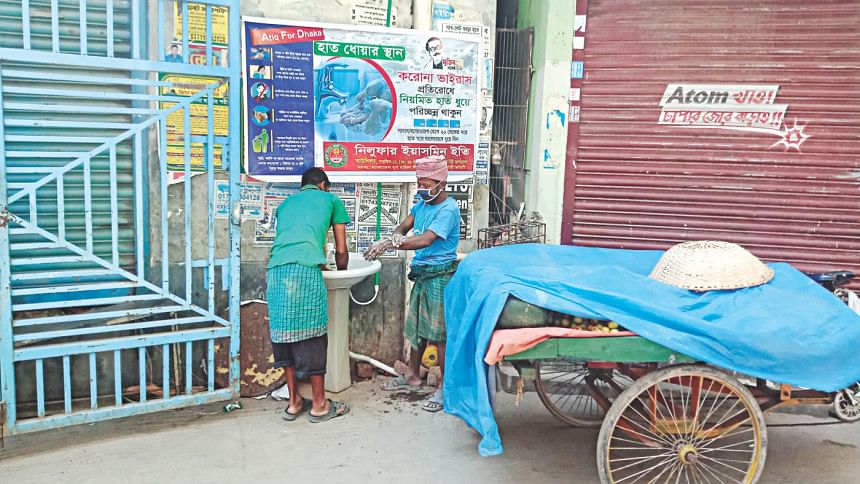 After a tiring session of painting a nearby store, labourer Shaheen Mia finds the newly set up public hand-washing station, and he along with his co-worker grabs the bar of soap and scrubs away all dirt and grime, and possibly the coronavirus. 
"We usually wash our hands with water only after work. Finding a bar of soap for ourselves is rare when we stay outside. Such an initiative is definitely helpful for us, especially amid this crisis," said Shaheen when approached by this correspondent.
This station, equipped with proper water supply and soap, is situated at Badda's Satarkul and is servicing residents and passers-by during a time when keeping one's hands squeaky clean is essential.
Like Shaheen, many passers-by are fully utilising the facility set up by Nilufar Yeasmin Etee, reserved ward councillor elect (38,39,40), in Badda.
She alone has set up at least 15 such stations in the three wards, keeping the current pandemic in mind. Although she is yet to assume office, she installed them on her own initiative.
"Although I'll assume office in May, I'm still a representative. I can't wait for the city corporation's assistance or direction to help my people amid this crisis," said Etee.
"At first, I wasn't sure the initiative would work. I first installed two basins beside by house for public use. After a while, people from all around started using them," she continued. "Then I realised that this is important for the people, and I should install more of them at different locations of the wards."
"Many residents made requests to set up stations near their places, and I did so and installed some beside mosques too," she told this correspondent, adding that she will continue the initiative till the crisis remains.
So far, she has set up hand-washing sations at different locations, including Alirmor, Satarkul and Nurerchala. She has a monitoring team which visits the areas two times a day to see if soap and water are available.
Till now, there has been no incidence of people stealing soap or the basins, as everyone is cooperative, she said.
It is not just Etee, however, as general ward councillors are also doing the same. Masum Gani, councillor of ward-21, on his own initiative has installed three such stations at different points in the area.
"As part of measures to tackle Covid-19, we're installing them where there is frequent movement of people," said Gani. The city corporation is providing bleaching powder, toilet paper and a few bars of soap, but the councillor himself is doing most of the work.
When asked if anything gets stolen, he replied, "No, people here know each other and are helpful to keep the initiative going."
Beside main roads, healthcare facilities such as Ibn Sina installed their own hand-washing facilities for those who enter their buildings, but passers-by can use them as well.
Even local leaders and some residents have joined in.
Kamal Uddin Saheen, an organising secretary of Badda Thana Awami League, has installed six stations in the same ward.
Local shopkeeper Md Kabir said, "This is a great initiative by the councillors and local leaders. We can now wash our hands with soap outdoors whenever we need to. No one dares to steal anything; we all look after them."
In the same area, HA Parvez installed a basin in front of his building five days ago, spending nearly Tk 20,000.
"Everyone should help each other according to their capabilities to overcome the crisis. I'm just doing my part," he said.
Earlier on March 17, Dhaka North City Corporation launched hand-washing stations at 25 key points for residents.