'Inform people of legal remedies'
Young lawyers expect from Star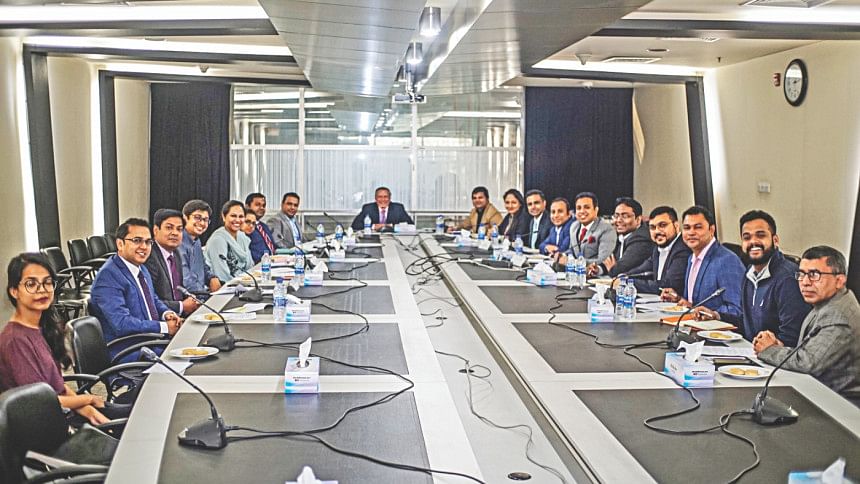 Young lawyers yesterday at a discussion recommended that people be made more aware of legal remedies available at local and district levels, so that every matter is not brought to the higher courts.
At the invitation of The Daily Star, the lawyers gathered at the newspaper's office to respond to the question "How can The Daily Star strengthen the rule of law in the country and guarantee constitutional rights of every citizen?"
Participants observed  that people are being deprived of remedies due to complexities in the legal system, and hence they are losing trust in the judicial  mechanism.
They further suggested to make people aware of sectoral laws and  policies -- including those dealing with medical and educational services,  banking sector, road safety, consumers' rights and food safety.
On another note, they expressed the view that the general standard of law reporting needs to be improved, adding that legal terms are often misused, and implications of several judgements have not been fully covered in newspapers.
They recommended follow-up stories on major legal observations and on proceedings of public interest litigation, and suggested regular training for law reporters and news editors for accurate reporting on legal issues, including the Supreme Court verdicts and orders.
They also emphasised better briefing by lawyers on their respective cases, and more discussions on major judgements to this effect.
The lawyers also stressed holding roundtable discussions on draft laws and advocating for modernisation of laws that are backdated and have failed to serve the purpose. Newspapers can contribute to promoting policies through advocacy on different legal issues, they said, adding that journalists can use the right to information mechanism to avail authentic and accurate information.
They underscored that people are entitled to know basic and necessary information on different legal issues, which a newspaper can disseminate.
Editor and publisher of The Daily Star Mahfuz Anam presided over the meeting, where Barrister Jyotirmoy Barua, Barrister Rashna Imam, Barrister Anita Ghazi Islam, Barrister Omar Khan Joy, Advocate Kawser Ahmed, Advocate ASM Sayem Ali Pathan, Advocate Manzur Al Matin, Advocate Shihab Ahmed Shirazee, Advocate Dr Syeda Nasrin Lima, Barrister Saqeb Mahbub, Advocate Imdadul Haque Khan, Barrister Abbas Uddin, Barrister Margub Kabir, and Barrister Shaleh Akram Somrat attended as discussants.