How Savar became a hub of rose cultivation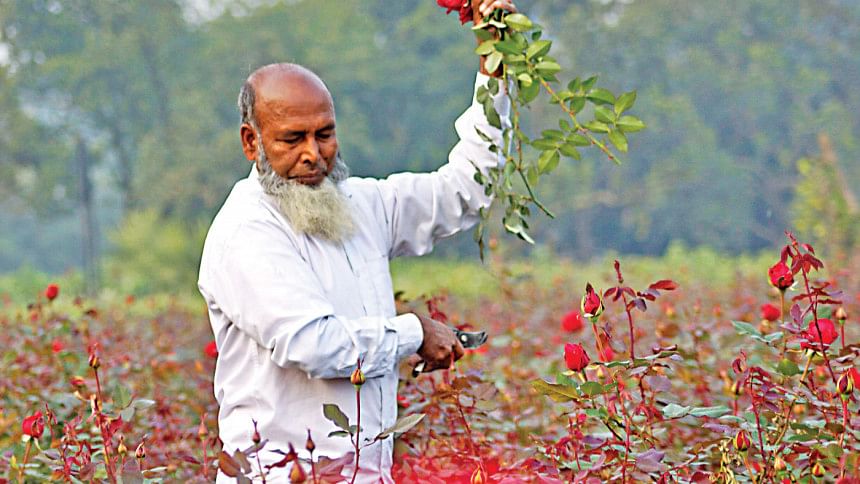 Sabed Ali was 16 years old when he began working as a gardener at Bangladesh National Zoo.
The young man was fascinated by gardening and nurturing plants from the very beginning. He quickly became an expert gardener after joining in 1979.
The rose -- a globally revered symbol for friendship, love and feelings -- was of special interest to him. Taken by the flower's beauty and the meanings it conveys, the young Sabed Ali dreamt of having a rose garden at his house.
And so he bought ten seedlings with Tk 350 and planted those in pots at his house in Nobaberbagh area in the capital's Mirpur-1 back in 1983.
Soon enough, his small initiative started scaling up. Within two years, his home garden became a sight to behold with blooming roses, even attracting visitors from nearby areas.
This inspired Sabed Ali to begin rose cultivation on a commercial basis. In 1989, he leased 20 decimal of land in Sadullapur area of Savar and began the venture.
"Starting off wasn't easy. Many people discouraged me from pursuing this commercially and criticised me. But I kept at it," recalled the 57-year-old Sabed Ali.
Eventually, his garden yielded enough flowers to be sold at the wholesale market in Dhaka's Shahbagh.
Sabed Ali then scaled up even more, leasing another 30 decimal of land.
He was the pioneering force behind large-scale rose cultivation in Sadullapur and adjacent villages of Shyampur, Mostapara, Birulia, Bhakurta and Bhabanipur.
At present, around 1,500 people from this villages are involved in commercial rose cultivation. The villages have gained a reputation as golap-er graam.
Farmers cultivating rose say they are making profit from the business, and to add to that, the area is attracting visitors with its beautiful rose gardens.
Sabed Ali says he had no idea that his humble venture from 1989 would open new horizons for the people in the area.
"Many people are taking up this craft now. It makes me happy to see that. I welcome everyone into this venture and try to help them with my knowledge and experience," Sabed said while talking to this correspondent at his rose garden in Savar's Shyampur last January 30.
Mokbul Hossen, a farmer from Bonogram area said, "I began rose cultivation about 15 years ago. I was inspired by Sabed bhai. Now my garden covers 60 decimals of land."
"My family was poor. Through rose cultivation, we have been able to lift ourselves out of poverty. It would not have been possible without Sabed bhai's great initiative," said Mokbul.
Despite the success, the flower market has also taken a hit during the pandemic, and due to the popularity of plastic flowers. Sabed Ali said the production expenditures have skyrocketed, but the selling price of roses has dropped.
"Plastic flowers have flooded the market. This affects the demand for fresh roses," he explained.
Sabed Ali urged the government to patron rose cultivation and ensure fair prices for farmers.
"We need a wholesale rose market, a cold storage for preserving flowers and government's cooperation for flower export," added Sabed Ali.