Barishal Canals: Part-III
Holding on to what's left
Although most of the canals in Barishal -- a city once known for its waterbodies -- are dead or grabbed, a few still exist. The last part of the series focuses on those.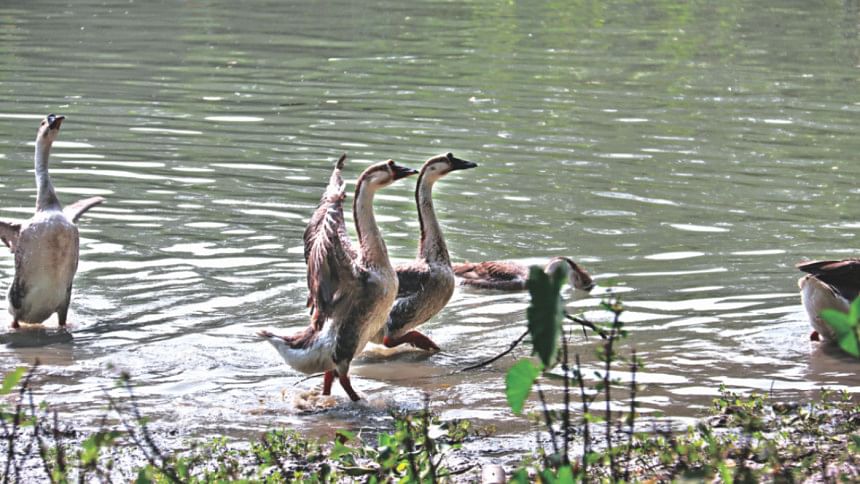 Apart from being a boon to the city and its residents, canals also enhance the scenic beauty of their respective locales. They are perfect locations for taking a breather when city life wears one down.
One does not have to be an avid nature lover to find joy in the relaxing sound of water, the brightly hued kingfishers hiding in bamboo groves, or the occasional fish making itself visible. 
A person can spend leisure time walking along the banks. Gentle breeze is sure to cool them down in summer months. During monsoon, the sound of raindrops hitting the water creates a rhythm. And in spring, air buzzes with birdsongs and murmur of the current.
This newspaper met Jobaydul Islam Arif, a master's student of Department of Soil and Environmental Sciences at Barishal University, beside Sagordi canal.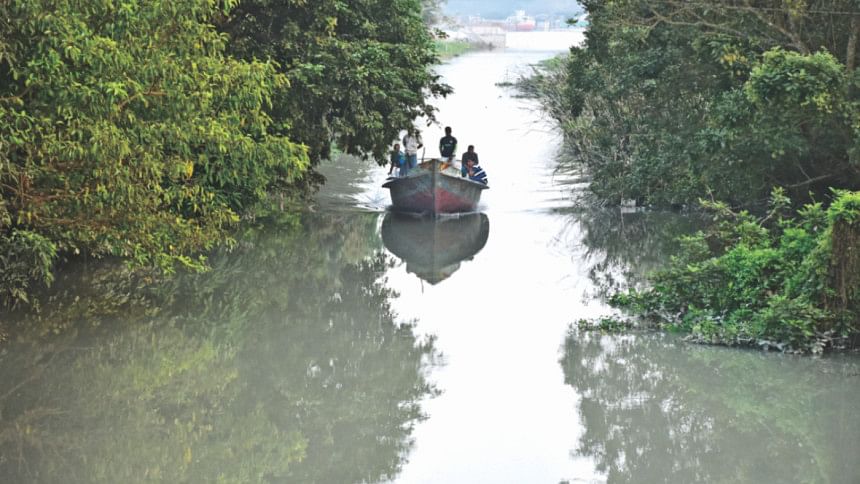 While sharing his thoughts, he said the waterbody is a great source of recreation for him.
"Whenever I get a chance, I come here. I feel like it recharges me," Arif said.
Of course, the scene would not be complete without boats carrying seasonal fruits like guava and hog plum that Barishal is famed for. A "floating market" forms on Sagordi canal. Traders navigate their boats throughout the day with fruits bought from local wholesale markets or collected from their own gardens.
Onlookers may also find delight in the graceful swimming geese. Their concentration might be broken by a flock of larks coming out of the canopies of trees.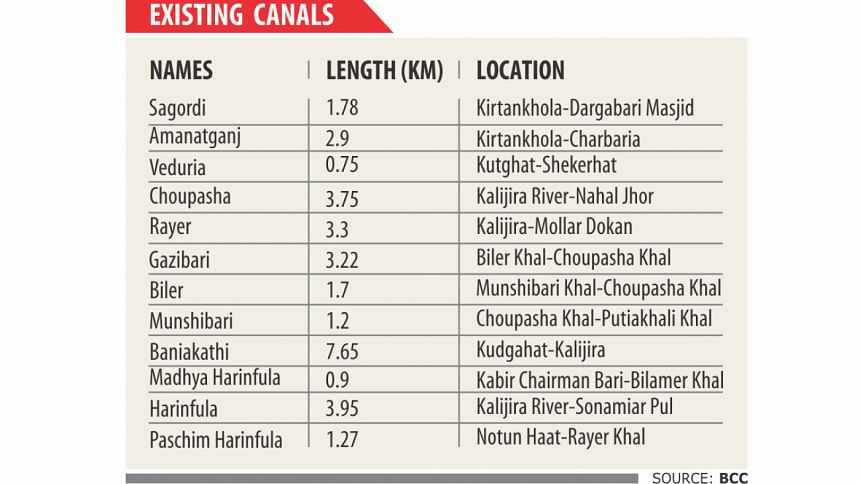 Banks of around 11 other canals provide similar waterscape. If one walks nearly 1km along the bank of Madhya Harinfula, one might find such scenic beauty at the canal stretching from Kabir Chairman Bari to Bilamer Khal. One can also visit the 3km long Amanatganj, 3.75km Choupasha and 3.3km Rayer canals.
"It would be better if there were seats on the bank," said Arif.
When he was informed about a development project which will include such amenities, he said, "Let's wait and see how long it will take to implement it."
The way the grabbers are heading towards the canals is really alarming, he said, expressing concern.
WHAT BAPA SAYS
Md Rafiqul Alom, divisional coordinator of Bangladesh Poribesh Andolon (Bapa) in Barishal, said, "We welcome the project proposal of Barishal City Corporation to protect all the canals. But we are doubtful about the optimal utilisation of the project funds."
"We don't know the details of the proposal. The issue should be discussed with the civil society members and green activists," he said.
"As the project will be implemented by contractors through tender, they will think more about profit than actual work," he alleged.
Earlier, a project to protect two canals did not succeed due to a lack of proper plan, he said.