Harnessing the Indo-Pacific Strategy
Experts discuss investment, security and stability
Speakers at a roundtable yesterday laid emphasis on harnessing benefits that Indo-Pacific Strategy (IPS) offers in the region, addressing the challenges through joint efforts and ensuring a win-win situation for all partners.
Speaking at the discussion on "Indo-Pacific Strategy: Implications for the Region" jointly organised by The Daily Star and Bangladesh Institute of Peace and Security Studies (BIPSS) at The Daily Star Centre, they said Bangladesh is a key maritime nation which also occupies a strategic gateway to the Bay of Bengal and Indian Ocean.
It was addressed by US Ambassador Earl R Miller; German Ambassador Peter Fahrenhollz; Prof Amena Mohsin and Niloy Ranjan Biswas of International Relations Department of Dhaka University; Prof Imtiaz A Hussain of Independent University, Bangladesh; Parvez Karim Abbasi of East West University; Associate Editor of The Daily Star Brig Gen (retd) Mohammad Shahedul Anam Khan; Major Gen (retd) Ferdous Mia; former ambassadors Shamim Ahmed, Sirajul Islam and Selina Mohsin; and Rear Admiral (retd) ASMA Awal. President of BIPSS Maj Gen (retd) ANM Muniruzzaman moderated the discussion. Norwegian Ambassador Sidsel Bleken and diplomats from USA, UK, Australia, China and Japan were also present.
They focused on investment opportunities, security aspects and stability in the region for greater good.
However, the experts said since the IPS is still at a formative stage, it is difficult to say how things are going to take shape.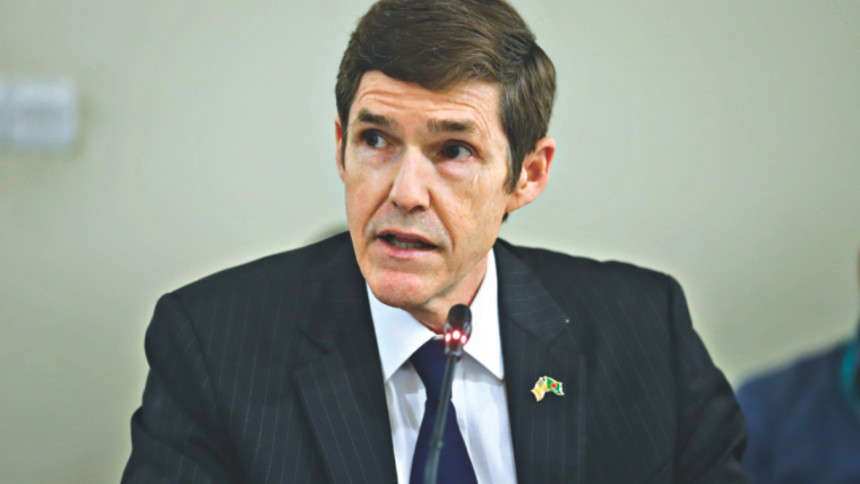 Indo-Pacific Strategy is a concept reemphasised in 2017 by US President Donald Trump and it calls for a "free and open Indo-Pacific", where nations "thrive in freedom and peace" and all states "play by the rules".
Speakers suggested that it is important for policymakers of Bangladesh to understand all the maritime strategic initiatives coming into play including Belt and Road Initiative (BRI) and IPS.
They opined that these initiatives and strategies should benefit all nations and people of the region. One needs to be careful in identifying any intended aspect of strategic exclusiveness that might create unwanted fault lines of tension and conflict, they said.
Elaborating on the IPS, the US ambassador said the United States' Indo-Pacific vision, which focuses on economic, security and governance issues, is a whole-of-government effort to support a free and open Indo-Pacific where sovereign nations can prosper.
He said they work with key partners like Bangladesh to protect and enhance a rules-based order in Indo-Pacific, which respects principles of peaceful resolution of disputes, freedom of navigation, open and transparent investment environments, and strong and responsible governing institutions.
Ambassador Miller said Bangladesh has much to be proud of when it comes to economic growth and development over the past decade. "And we must always remember -- economic development and respect, democracy and human rights are mutually reinforcing, not competing objectives."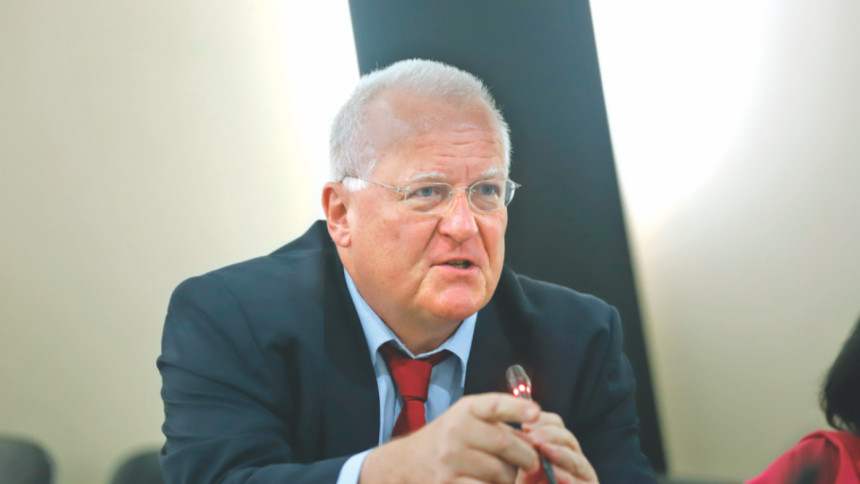 He said American businesses want to invest in countries that operate transparently, uphold the rule of law, and protect individual rights, and they are watching developments in Bangladesh.
"Encouraging sound, just and responsive governance is a core aspect of the Indo-Pacific vision. Progress in these areas will not only expand Bangladesh's ability to maximise the economic tools and security cooperation, but also protect the country's long-term growth and stability," said the ambassador.
"Bangladesh shares our goals of building a more prosperous, secure and inter-connected region, and with its strategic location and fast-growing economy, it is poised to play a central role in the Indo-Pacific."
The US ambassador said countries must do their part by creating conditions that welcome private investment, and allow it to flow to productive enterprises in their economies. "Roll out the red carpet, not red tape."
Mentioning a perception that the IPS is just an attempt by the US to contain China, he said the US vision for a free and open Indo-Pacific excludes no nation.
"We do not ask anyone to choose between the United States and China. Our vision is not about matching China dollar-for-dollar or creating our vision of the Belt and Road Initiative," he said adding "Belt and Road is China's way of doing things. Our focus is on helping the private sector do what it does best: spark economic growth, innovation, and long-lasting prosperity."
Miller said like the US, China is an Indo-Pacific country and the United States welcome China's constructive participation in upholding an international system based on clear and transparent rules.
The US ambassador said it is estimated that the region requires about US $26 trillion in infrastructure development by 2030, which cannot be provided by one country, and most of it is going to have to come from the private sector.
"…Values that we share with the USA are universal values that we try to project: democracy, rule of law, human rights, justice. In big words, this is what every human being actually wants," said German Ambassador Peter Fahrenhollz.
"Bangladesh is a key maritime nation and in the Indian Ocean region and we should be playing our rightful role in all major maritime strategic initiatives that benefit us," said BIPSS President M Moniruzzaman.
Shamim Ahmed said the Indo-Pacific is still at formative level, and it is difficult to say at this moment how it is going to build up.
BIMSTEC Secretary General M Shahidul Islam said member states of BIMSTEC would be very happy to be part of Indo-Pacific Strategy, but they really need to wait and see how things happen.
Parvez Karim Abbasi, Assistant Professor at Department of Economics of East West University, said a major component of IPS is geo-economic aspects. "As we develop our blue economy concept, we must analyse this to take the best benefit for our nation."