In grabbers' clutches
The second report of the series highlights how existing canals are being choked to death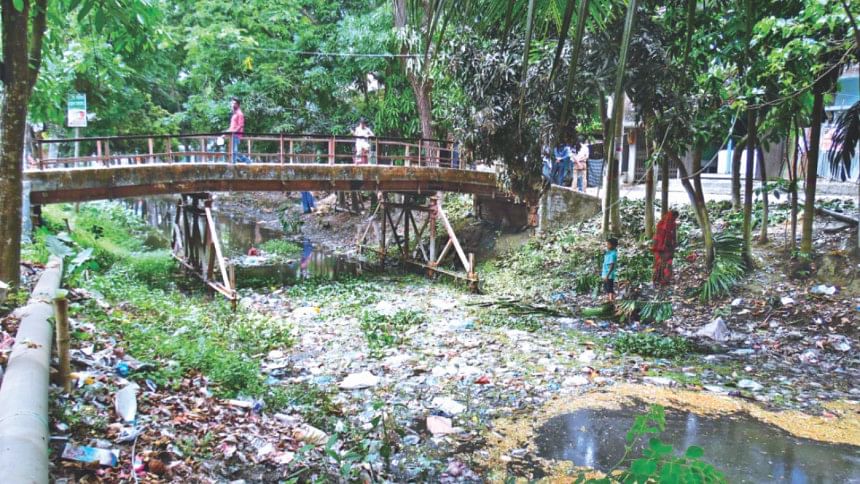 In a bid to stretch usable land, people have been encroaching canals flowing through Barishal city.
In the course of action, they first enclose a certain area on the bank with bamboos and later pile garbage there. This way, they close in on the canals, narrowing them down. And eventually, the land is grabbed.
As a result, free flow of the canals is halted, making their water stagnant. Subsequently, they become breeding ground for mosquitoes.
Nathullabad Khal is one such canal.
"We have to endure the mosquito menace," said Biblob Hossain, who lives near the canal in Nathullabad area.
Influential individuals, often with political connection, living near the waterbodies are mostly involved in such practice, and dry season is the opportune time for them.
Abdul Jabber Molla, living in Rupatoli area, termed the grabbers "the biggest culprits". He said, "It's time to resist them by any means."
About Uttar Sagordi canal, Babu, a businessman in Chandmari area, said, "I used to transport timber to the city through the canal." Now the canal is in the throes of death, he added. 
The movement carried out by green activists cannot seem to prevent the encroachment. Besides, government actions are also inadequate.
"I don't see anything wrong in using the 'canal land' as many are doing so freely," said a grabber from Kawnia area.
He did not elaborate further. Many others feel this way.
Environmentalists claim the absence of stern measures and monitoring for years has enabled grabbers and potential grabbers to make such audacious comments.
Lincon Bayen, Barishal divisional coordinator of Bangladesh Environmental Lawyers Association (Bela), expressed his frustration with the prevailing situation.
"Are the canals their [grabbers'] ancestral property?"
No one can do whatever they want, causing immense suffering to city dwellers, he said. "We should unite to launch a massive awareness campaign and make the authorities more accountable."
According to Bela, the canals are turning into garbage dumping grounds.
"We filed a writ petition in 2015 with the High Court, seeking removal of all illegal structures from Lakutia canal. The HC subsequently passed an interim order to remove those, but to no avail," said Lincon.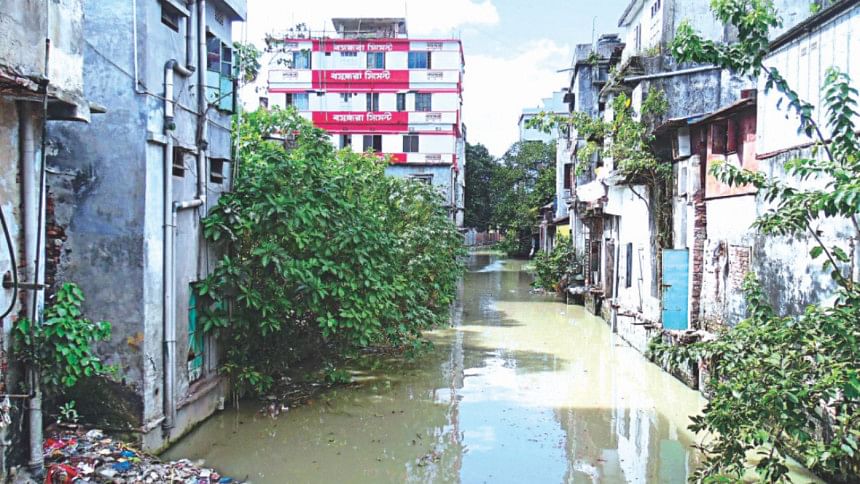 Around 22 canals are presently under threat due to encroachment, lack of maintenance as well as siltation.
Green activists say if this situation continues, Barishal city will lose all of its canals within a few years.
People of the city will have to face a collapsed drainage system, said Hafiz Ashraful Haque, a teacher of the Department of Disaster Management at Barishal University.
When asked about actions to retrieve the canals, the Barishal City Corporation authorities said they recovered some of them by conducting eviction drives and the rest will be recovered as soon as possible.
"Under a pilot project, we will soon install demarcation pillars and construct walkways on both sides of Sagordi and Jail canals," said Anisuzzaman, executive engineer of BCC.
Aminul Islam, assistant commissioner of land in Barishal, said the issue of recovering the grabbed canals will be included in the next detailed area plan of the city.
BCC Executive Engineer (Civil) Humayun Kabir said, "We found that at least 40-50 percent of the canals are silted or filled with garbage."
"Around 20-30 canals are grabbed by local influential people," he added.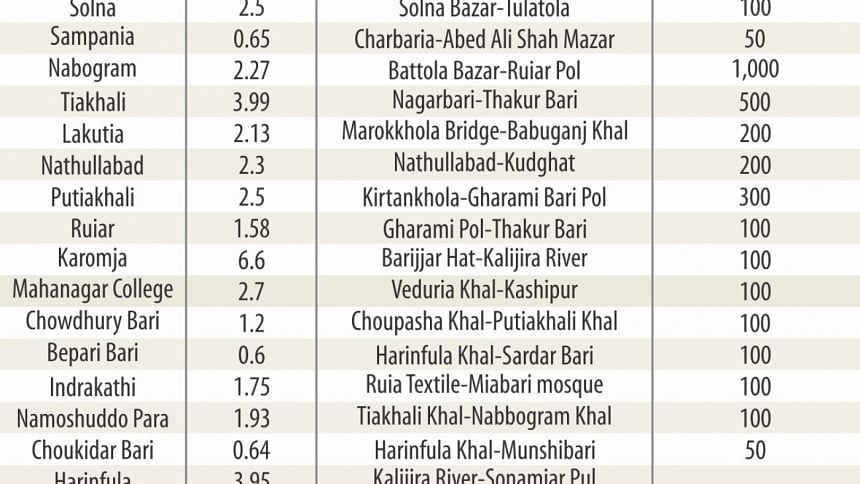 All the canals except for Sagordi and Amanatganj have lost navigability, said BCC Superintendent Engineer Mohammad Anisuzzaman.
Suvankar Chakrabarty, secretary to Barishal unit of Bangladesh Poribesh Andolon, said such a situation should not continue as it will result in waterlogging during the upcoming monsoon.
Anisuzzaman said a project proposal to re-excavate the canals and protect their banks was sent to the LGRD ministry in the last week of January this year.
City Mayor Serniabat Sadiq Abdullah, who was elected in July last year, told The Daily Star that BCC has plans to make Barishal "a city of rivers, canals and other waterbodies". "We proposed a project worth Tk 1,387.73 crore to restore those."
BCC Chief Engineer Nurul Islam said under the project, walkways with sitting arrangements will also be constructed along the canals.
"Once the project is finished after approval, the canals will come back to life," he said.
[Our Barishal correspondent Sushanta Ghosh also contributed to the report]