Govt mulls underground substations in Dhaka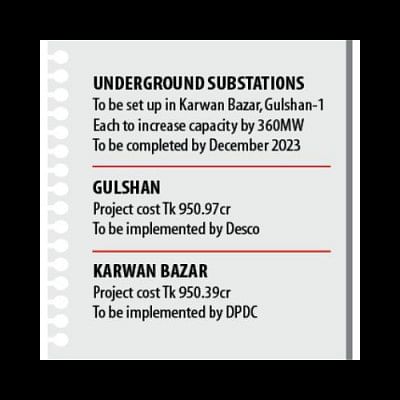 The government is planning to set up country's first underground power substations in the capital's Karwan Bazar and Gulshan-1 to increase the capacity of power supply and cut the dependency on land.
These substations will reduce the possibility of load shedding and technical loss of power, said officials of Dhaka Power Distribution Company (DPDC) and Dhaka Electric Supply Company (Desco).
Each of the two substations will increase the capacity of power supply by 360 megawatt. The electricity demand of the city at present is around 2,700MW, they added.
Major portion of the project cost will come from Japan International Cooperation Agency (Jica) and a loan contract was signed between the government and Jica on June 29, 2017 for this, they said.
Desco, which distributes electricity in the northern parts of the capital and Tongi of Gazipur, will construct the Gulshan-1 substation. A 34-storey commercial building will also be built on the ground above it.
DPDC, which supplies to parts of Dhaka and Narayanganj, will implement the Karwan Bazar project.
Mohammad Shariful Islam, project director of the Desco part, said the Gulshan substation will be built 60 feet under ground.
There are many underground substations in Japan, and Tokyo Electric Power Service Company, has been appointed as the consultant for Gulshan sub-station.
"Therefore, it will not be risky," he told this newspaper recently.
Another local consultancy firm -- 37 Bridge -- is taking part in preparing the design.
The project is worth Tk 950.97 crore, of which Tk 247 crore will come from the government, Tk 629 crore from Jica and Tk 75 crore from Desco's own fund.
A tender to appoint a construction firm will be floated in November. The project, which started on July 1, 2018, is scheduled to be completed by December 2023, he said.
For the DPDC substation, around Tk 950.39 crore is required to implement the project. Around Tk 626.18 crore of the cost will come from the cooperation agency, around Tk 76.05 crore from its own fund and Tk 248.15 crore from the government.
This project started in July 2018 and is scheduled to be completed by December 2023, said DPDC Executive Director (Operation) ATM Harun Or Rashid on April 21.
The Executive Committee of National Economic Council approved the development project proposal (DPP) for this on June 21, 2018.
Earlier, Jica conducted a feasibility study on the underground substations and found Gulshan-1 and Karwan Bazar suitable.
"We have already appointed a consultancy firm, and a process to appoint a construction firm is going on," Harun said.
Usually, around one acre of land is required to construct an overground substation but an underground substation can be built under a multi-storey building without any risk.
Harun further said electricity demand in DPDC area is 1,700MW per day.