Footpath, road blocked by DNCC's structure
Waste transfer station, vehicles encroach pedestrians' space in capital's Badda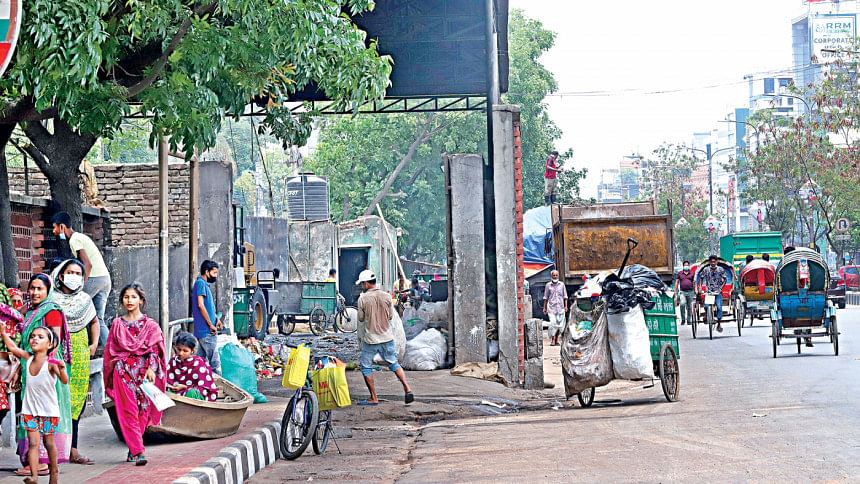 Dhaka residents usually come across footpaths and roads being blocked by vendors and parked vehicles. As a result, they may have to jaywalk or manoeuvre their vehicles through the obstacles, hoping that one day authorities will clear the path.
But when the organisation responsible for making the city liveable creates the problem itself, what hope can residents have?
The length of footpath from Nadda to Natun Bazar is easily walkable, but after reaching Natun Bazar, pedestrians are forced to jaywalk on Pragati Sarani, because Dhaka North City Corporation (DNCC) has set up a large garbage dumping station, known as Secondary Transfer Station (STS), occupying an entire part of the footpath.
If that was not enough, the vans and trucks for carrying garbage are usually parked alongside the footpath in a long line.
At one time, there was no proper STS in the capital, and waste was dumped on old-fashioned containers, which were provided by the city corporation, on the main road. Unfortunately, due to a lack of proper planning and disregard for pedestrians, installation of some STSs created major problems.
There are 56 such stations, measuring from 1,500 to 4,000 square feet, in DNCC, according to DNCC officials.
After a recent visit to the dumping station at Natun Bazar, this correspondent observed the issues first-hand.
"The footpath is blocked by DNCC itself, when it's the city corporation's duty to free footpaths from encroachment, making way for pedestrians," said a passer-by, Md Sumon, in the area.
The dumping station was constructed in such a way that a part of it occupies the main road. Therefore, small vehicles like bicycles have to ply the road's middle lane, among cars and buses, when crossing the STS, risking their lives.
"We cyclists usually choose not to ride on main roads, and even if we do, we try to stay as close to the footpath as possible. But due to the station and parked vehicles, sometimes we need to move to the middle of the road," complained Tanjim Kiron, a cyclist passing by.
The STS at Notun Bazar gets garbage from Nadda, Baridhara, Nurerchala and Khilbarirtek. From 11am to 8pm, the garbage team collects waste from the areas, according to Saiful Islam, supervisor at Multi International, the company responsible for operating the STS.
Asked why they keep their vehicles parked there, he replied, "We have to park the vehicles on the roadside, as we do not have any separate parking space. Vans from different wards are kept there too. We do not have an alternative. Currently, there are 22 vans under the STS."
Contacted, Ward-18 councillor Zakir Hossain said, "Before establishment of the STS, garbage of our area was dumped on Biswa Road and other undesignated places in the open. Now, this STS gives us a designated place and brought everything under order."
"However, it occupies the footpath, and Baridhara Society complained of stench coming from the garbage. But so far, it is the only open space we have found," he said.
Contacted, additional chief waste management officer SM Shafiqur Rahman said, "We already have 56 STSs and are working on four more. Finding space is a major challenge for us, but we are trying."
He could not say exactly when the STS was established, but said it was set up couple of years ago. About the STS encroaching the footpath, he again spoke about the space constraint without giving any specific answer.
Asked about a parking space for garbage carrying vehicles, he could not give a satisfactory answer in this regard, and said, "We do not support keeping vehicles at the roadside. We need to work on that."
Contacted, Bangladesh Institute of Planners General Secretary Adil Mohammad Khan said, "Due to the unplanned nature of Dhaka city, authorities frequently select unviable spaces for these establishments. Furthermore, work on such initiatives are usually on ad-hoc basis, under different projects."
"However, the government has the capacity to acquire land for such projects, and with proper planning and consultation with experts, such issues can be resolved before construction starts," he said.