From footpath to Facebook
A 32-year-old streetside book business moves online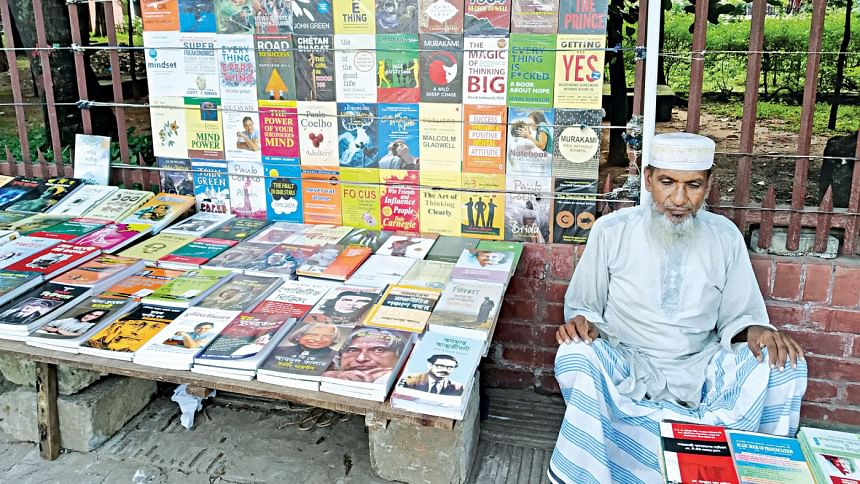 Sixty-four-year-old Habibur Rahman came to Dhaka from Narsingdi in 1988. For the past 32 years, he has been selling books around the city, and now, to the elderly man's amazement, he is selling books online with the help of his son.
Habibur started selling books on the street in front of High Court and at Sadarghat. He settled at Dhaka University campus in 2004, and for the past 16 years, he has found many loyal customers among the students.
"I tried selling books in many areas of the city, but people would often be disrespectful; to them, I was just any other hawker. But at the campus, students showed respect for me and my profession. They were very welcoming," Habibur told The Daily Star.
"They would ask me to bring certain books sometimes. They also helped me financially during trying times. This means so much to me. I would not receive such love anywhere else," Habibur added.
But when the pandemic hit Bangladesh and the university was declared closed, Habibur's business could not continue. He has set up the venture on the footpath at DU, but there are little to no customers visiting amid the outbreak.
"I used to sell books worth Tk 3,000 per day. Now even a Tk 500 sale is rare. It is a tough time," said Habibur.
But Habibur found new hope through his son Md Emon and the wonderful world of social media. "I started operating a Facebook page called Book Destiny last Saturday (July 11), and in just two days, we received a huge response. The page currently has nearly 9,000 likes," said Emon.
Habibur said he asked his son for help during this crisis. "I'm not well-versed in online platforms. But some of my well-wishers came forward and my son has been looking after the page."
Emon had already been helping Habibur out with the business at Shahbagh; he would collect books from Banglabazar for retailing.
Emon said, "It was actually a regular customer of ours who suggested we take the business online. I deliver the books in person sometimes and other times we use a delivery service."
Book Destiny has already delivered books to Mirpur, Moghbazar, Mohammadpur, Lalmatia, Farmgate and Khilgaon areas, he said.
Regarding the challenges, Emon said, "My phone is a bit of an outdated model, so I can't always manage communication with so many customers. Besides, we are yet to provide service outside Dhaka." Emon is trying work through the glitches, and hopes to establish a more efficient
delivery system for customers in and outside of the capital.
Many of Habibur's loyal customers have returned since the business went on Facebook, and he also has a newfound zeal for the venture. "I bought books from Habib chacha regularly for over five years, and this pandemic has not been kind to him. The business is now online and we can all help out by buying books," Labiba Faiaz Bari, a student of Dhaka University, said in a Facebook post.
Well wishers left many positive messages and reviews on the page, with many thanking the admins for the prompt delivery. Dhaka University students made sure to spread the word on the initiative, and their peers flocked to the page to help out their favourite Habib chacha.
Asked why he was drawn to selling books, Habibur said, "I myself couldn't get a good education or higher degree, and neither could my three sons due to financial instability. But doing this business gives me immense satisfaction and pride because my primary customers are students, who are being enlightened by reading books. They are just like my children and my business is helping them."
But Habibur is still not sold on moving the business entirely online, despite the heavy sales. He is still setting up shop on the footpath at Shahbagh. "The campus is where I love to be, with the students who visit me regularly. It is not only about my business but I also love the community there," Habibur said.