Ekushey Book Fair: Readers on the hunt for new-release titles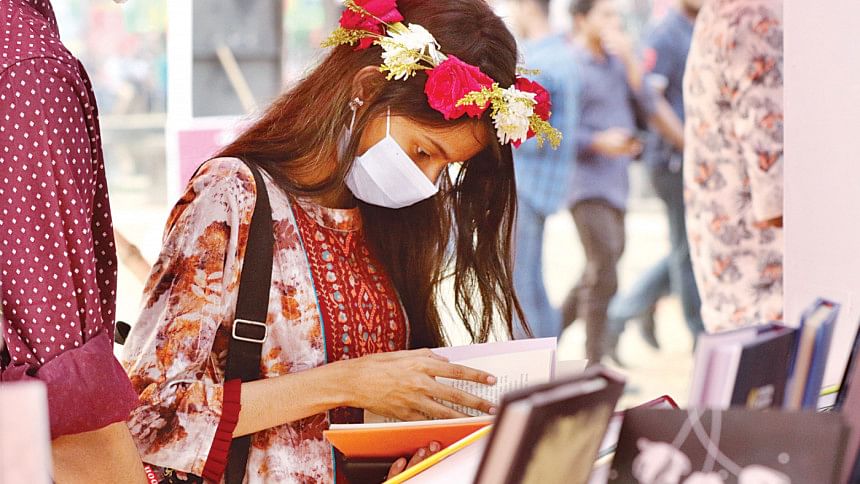 One of the key attractions of Amar Ekushey book fair is the release of innumerable new books. Many wait for a whole year to satiate their hunger for newly released material, and the fair fulfils their desire in the form of novels, poetry, fiction and sci-fi.
Although the pandemic delayed the fair, book lovers still came to the Suhrawardy Udyan. Yesterday was the fair's fourth day, and although the crowd was not as big when compared to pre-pandemic times, as the sun set in, the number of visitors started to grow.
"New books are always refreshing to read, and the fair always offers a wider variety. So, I like to always come to the fair whenever it takes place," said Dhaka University student Ratul Talukder, who was looking for the new release of Muntassir Mamoon, one of his favourite writers.
Rridi Islam is a private university student who came to enjoy the evening with her friends at the fair and buy new books.
"We can buy books, even new ones, online. However, coming to the fair physically to buy them has a different meaning. It invigorates your passion towards literature and gives you a unique kind of joy," said Rridi, who loves to read sci-fi and was looking for the new release of Dr Zafar Iqbal.
Many prefer to buy books for their friends or loved ones during the fair, and new releases get priority. Depending on the genre and choice, they select books for people as gifts.
"I'm buying a book for my friend who lives outside Dhaka. We don't meet much, but he is coming here for the fair. I hope he likes it," said private job holder Rakib, while buying Amader Hariya Jawa Paltan by Muntassir Mamoon, a new release at Subarna publication.
Publishers also wait for the fair to release new books and get generous profits. Therefore, at their stalls, they display the new releases to catch readers' attention. However, many books are yet to arrive, as only four days have passed.
Ananya Prokashoni Publisher Monirul Hoque said, "We are releasing 125 books this year, and 100 of them came till now. Hopefully, the rest will come within a week."
"During this pandemic, everything became uncertain. We hope the crowd will come, and we will be able to maintain health precautions. Wearing masks, our staffers are showing readers new releases," said Monirul, also executive director of Academic and Creative Publisher's Association of Bangladesh.
Muktijuddher Bhinno Dolilpptro by Muntassir Mamoon, Japanider Chokhe Bangalee Bir by Dr Noor Nobi and Sabuj Salowar by Masuda Bhatti are among the new releases of Ananya publication.
This year Katha Prokash published 59 new books, including Itihash Path-6 by Muntasir Mamoon, 1971 Osohojog Andolon o Protirodh by Afsan Chowdury and Rabindra Kabbe Alok Bhabna by Dr Siraj Saleki.
At stall 217-218, The Daily Star Books has some comparatively newer releases (2020): Have a Nice Day by Dr Rubaiul Murshed, The Transition by Md Tajdin Hassan and Rafeed Elahi Chowdhury, and One More Into the Past by Fakrul Alam.
Meanwhile, Little Mag publishers and writers demanded Bangla Academy relocate their stalls to last year's location at the venue. Protesting the placement of their stalls at the current location (east side of the fair), they kept the stalls closed yesterday.
Sohel Mazher, editor of Kashpata, said, "There are 135 stalls at Little Mag. Our purpose is not to sell, but to interact with readers. For this reason, the designated placement is not at all suitable."
"Before designating the location, the academy was supposed to talk with representatives of Little Mag, but they did not. We officially informed them but are yet to get a proper reply," he said, adding that they will continue protesting unless a proper solution is offered.
Contacted, Bangla Academy Director General Habibullah Serajee said, "During the allocation of stalls and pavilions, many stay unhappy. We always need to keep a balance among them. We'll let our decision be known tomorrow [today]."