Push button signals for pedestrian crossing: DNCC pursuing it despite little evidence of utility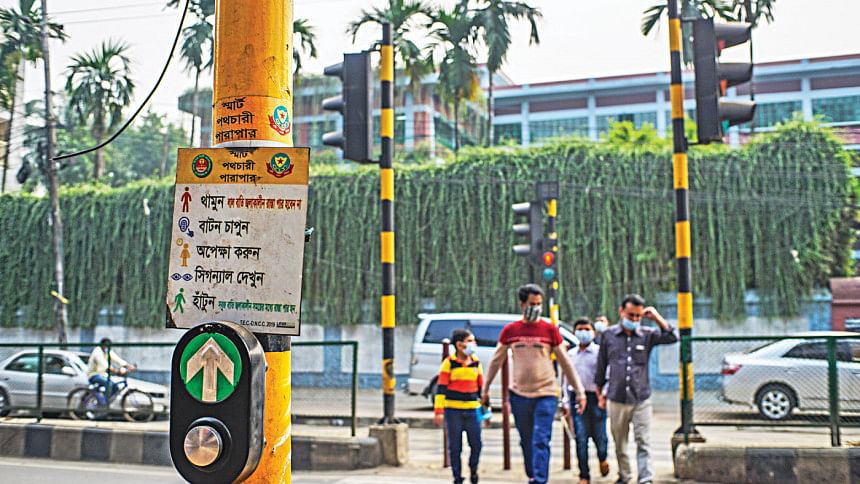 People holding out their hands to stop speedy vehicles, buses stopping randomly to take in passengers, cars zooming past pedestrians crossing the road -- this is the chaotic scenario at the road crossing in front of Brac University at the capital's Mohakhali.  
But it should not be that way. Last year, after spending Tk 6,68,724, Dhaka North City Corporation (DNCC) installed pedestrian crossing buttons to resolve all these issues.
This new technology enabled pedestrians to press buttons installed on both sides of the road to indicate that they want to cross. A countdown would begin for a certain period, showing red signal for vehicles to stop, and simultaneously, green signal for passengers to cross.
However, since installation, the system has been of no use. During a recent visit, this correspondent found the countdown timers not working, and some bulbs for the signals gouged out from the sockets.
"I don't know what it actually does. I never saw this being of use since installation," said Abdul Aziz, a security guard for an ATM just beside the button.
The situation is similar for pedestrian crossing buttons at the road in front of SFX Greenherald International School at Mohammadpur. DNCC Mayor Atiqul Islam inaugurated the system there, which was installed at a cost of Tk 6,46,594, in the same year on October 24.
After a month of its inauguration, this newspaper did a story on the technical malfunctions of the system. As the buttons did not work properly, DNCC and Dhaka Metropolitan Police (DMP) kept staff to help people cross the road.
Despite the dismal performance of this system, DNCC recently installed another set of buttons, spending Tk 7,71,000, in front of Mirpur Commerce College.
Although the recently installed ones do not have apparent technical errors, people are not using the buttons properly.
Despite all this, DNCC is planning to install such buttons in 20 other points of the city, spending Tk 2,05,00,000.
The proposed 20 points were suggested by DMP. Authorities have already decided to install the system at Kuril Intersection, in front of Milestone College at Uttara Sector-11, and in front of Gulshan Commerce College on Pragati Sarani.
DNCC's traffic engineering department implemented the system. DNCC officials said the technology is new, so it is difficult for them to make it work properly. Notable, they said the same thing last year, when this reporter pointed out the malfunctions.
Also, while inaugurating the system at Mohammadpur a year ago, Mayor Atiqul had announced that those who would not abide by the signals of the button system would be punished under law. However, that did not happen.
According to DNCC, Mesarse Shine Enterprise, a local contractor, along with DNCC was responsible for setting up the buttons in Mohakhali and Mohammadpur, while Mesarse SM Rahman International was the contractor for Mirpur.
Engineer Khorshed Alam of Mesarse Sine Enterprise said they had to use local components due to DNCC's small budget, which resulted in the system suffering from errors while calculating timings.
According to him, DNCC has now directed Mesarse Shine Enterprise to buy components from abroad and install them at Mohakhali and Mohammadpur. However, this will cost DNCC an extra Tk 2,90,000 for each system, totalling to Tk 5,80,000.
EXPERTS' TAKE
Bangladesh Institute of Planners (BIP) President Dr Akhter Mahmud said, "It is unfortunate that the system does not work properly. Before installing such systems, authorities must conduct primary assessment to see whether they will work."
Assistant Professor of Accident Research Institute of Bangladesh University of Engineering and Technology Kazi Md Shifun Newaz said, "There are few conditions for setting up such buttons. The system works best where pedestrian density is light. It works that way in European countries."
"But it will not be that effective in a densely populated city like Dhaka. It will be problematic both for smooth movement of vehicles and pedestrians. But if authorities still want to install them, they should run pilot tests and see the success rate, and based on that, they can reconsider," he said.
"DNCC should make a report and run a study on the currently installed buttons. Statistics should show whether they work the way they are supposed to. They can then proceed to set up more buttons. Otherwise, they should think of something else," he added.
Also, authorities need to raise awareness about the system if they are keen to install it and make it work, he opined.
DNCC'S EXPLANATION
DNCC Chief Engineer Brig Gen Md Amirul Islam did admit that they do not have any report on the system's success rate, and said they are focusing on educational institutions, as it is currently the best alternative for students' safety.
"We are setting up these buttons in front of educational institutions, so students, teachers and guardians can be benefited. However, to get full benefit, people will have to be more aware, and that will take time," he said. DNCC will train students and teachers on how to properly use the system, he added.
"We need to bring the accident rate down. Therefore, we have built speed-breakers in front of the buttons…Without all these arrangements, vehicles will not stop, and it would be difficult for students to cross roads," he opined, adding that such areas are best for installing the system.
He also welcomed anyone who can come up with a better alternative.