Dhaka to get additional 45cr litre water per day
Padma Water Treatment Plant set for launch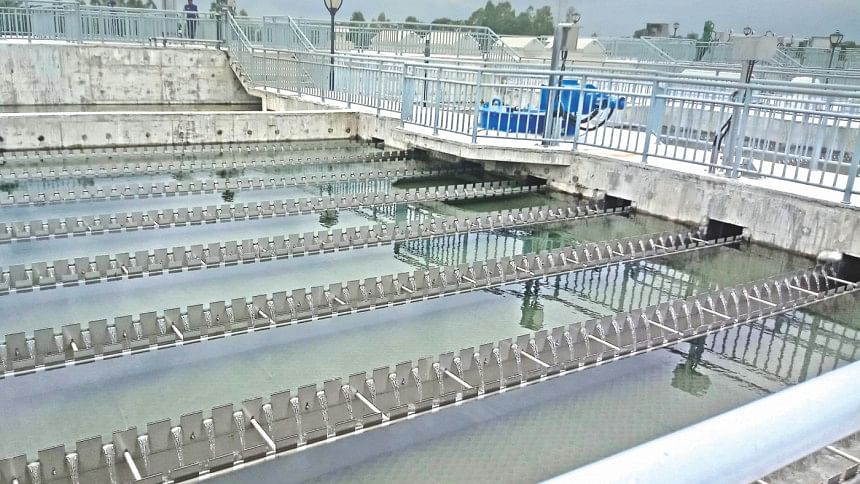 Dhaka is going to get an additional 45 crore litres of water per day from a new Wasa water treatment plant project, to meet demands of city dwellers.
About four million residents of Dhanmondi, Azimpur, Mohammadpur, Shyamoli, Kalabagan and adjacent areas will get safe water from this project, titled Padma Water Treatment Plant Project -- at Jashaldia of Lauhajong upazila in Munshiganj.
While visiting the project on Monday, Local Government and Rural Development (LGRD) Minister Md Tajul Islam spoke to journalists about the initiative.    
Replying to a query on when Dhaka dwellers would get the water, the LGRD minister said, "We still have some work left for water distribution line. Once all the distribution lines are complete, we will start supplying water in full force." 
However, some of the water is already being provided through the existing distribution line, and the amount of water will be increased gradually, he said, without giving specifics.
Asked the reason behind choosing the Padma river as water source, the minister said, "Dhaka inhabitants will get a sustained supply of water, and it will meet the water demands of city dwellers."
Besides, the rivers adjacent to the capital have become polluted over the last six decades, he said.
According to project director Rafiqul Islam, work of the project officially started in 2014 and ended this year. Prime Minister Sheikh Hasina will inaugurate the project on October 10.   
"We are supplying the water to the south-west part of the city through this project. Currently, this part of the city is dependent on groundwater and the Sayedabad treatment plant. Hopefully we will be able to provide 45 crore litres of water per day when it operates in full swing very soon," he hoped.   
According to him, the project costs around Tk 3,200 crore. 
Implemented in collaboration with the Chinese government -- with China CAMC Engineering Co Ltd as the contractor -- the project is situated on 100 acres of land.