Cruising through water to beat traffic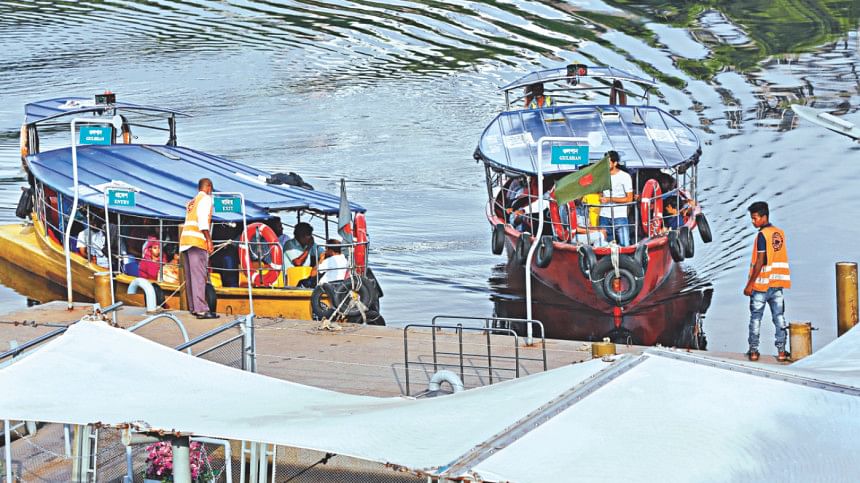 Despite Bangladesh being a riverine country, Dhaka residents don't see enough waterbodies unless one counts the flooded roads during monsoon (and now in late spring and summer, thanks to global warming). The Hatirjheel project was a huge improvement in that regard as people were attracted to the architectural and scenic beauty of the place.
However, the thing that made it a "jheel", the water, was not utilised for anything other than visual relief. This all changed when the water taxi service was launched. The "taxis" themselves are motorised boats with rows of seats and coverings above. If anyone ever took a Buriganga boat ride, they'll have an idea of what they can expect. When it comes to speed, the boats fall snugly between the human powered boats on Buriganga and faster modes of transport like cars.
If they're slower than cars then what's the advantage of using them? Well, the water doesn't have traffic jams. So, the Hatirjheel water acts as if it's Eid every day. Going from Gulshan to Karwan Bazar takes about half an hour. Compare that to commuting on road and it's easy to see why this route might sound like an attractive alternative.
Boat rides are quite nice in general, but what sets it apart is the actual operation of the service. Tickets can be easily purchased from the counters, and the jetties are well made. Passengers forming orderly lines (usually) to board the boat is always pleasing to observe, unlike buses where you need to run and fight to get on and then get squashed by others. Generally, after all the seats are occupied, the boats depart. The scenery is also worth looking at, better than Buriganga, at least.
Now, let's address the stench. The water is a foul-smelling mix of decomposing organic matter. Whether one can handle it depends on their sense of smell. Eventually, after using the service enough times, the nose gets used to it. Besides the smell, mosquitoes come to take a ride with you during night commutes.
The eyes may also notice the large amounts of discarded plastic and waste on the edges of the waterbody. Travelling through the opaque water will give anyone a new appreciation of how important it is to work on sustaining the environment. Sadly, it just might be too late for Hatirjheel.
Commuters can also get an idea of income inequality when they see the juxtaposition of lavish buildings on one side (Gulshan) and generic houses and apartments on the other (Badda).
Moving on to the more technical aspects, the water taxi service has jetties at five locations: Gulshan/Gudaraghat, Police Plaza, Badda, Rampura and Karwan Bazar/BFDC. The ticket prices are: Tk 30 for a ride between Gulshan and BFDC, Tk 20 between Rampura/Badda and BFDC, and Tk 10 between Gulshan and Police Plaza. Life jackets are always stocked on the boats, and there are curtains for rainy days. The service is open from 6:30am to 10pm.
Any problem that the commuters may face? Sometimes, people have to wait for 10 to 15 minutes for boats. Rarely, the motors stop working mid-journey or need to be refuelled before setting off. One's desired location might be a bit further from the jetties; in that case, a quick walk or a rickshaw ride will do the job.
In spite of the problems, it's just nice to see people enjoying their commutes for once. Passengers happily take selfies, and families even take round trips on holidays -- just for fun. It would have been great if Dhaka had more waterbodies to travel through, then perhaps the traffic would not have been so bad. For now, let's just appreciate this initiative to make commutes a bit easier.